Business and Industry Today is proud to present Hire Association Europe (HAE) as its Plant & Tool Hire Company of the Month.
Established in 1974, HAE, along with its sister company, Event Hire Association (EHA), is a highly regarded trade association specialising in the representation of plant, tool, equipment and event hirers. The industry-leading organisation is based at the Birmingham Business Park (near the NEC, Birmingham) and is acknowledged globally for its commitment to the hire and rental sector, serving 900 members mainly in the UK and all over the world.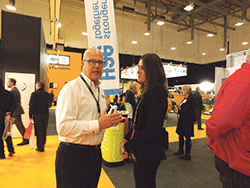 The UK's internationally recognised body works specifically to enhance individual businesses in a multitude of ways. The provision of various tools regarding finance, legislation, utilities and useful documents will support companies as they seek further growth in their chosen industry, and safeguarding can be made easier with its necessary range of health & safety, economical and credit control services.
"Membership fees are low in comparison to what you get for your money," commented Ann Harrison, Marketing Manager at HAE. "As a member you have access to products and services covering all aspects of your business. You will receive invaluable information regarding terms & conditions, safety checks, publicity, equipment, responsibilities and general day-to-day requirements, all of which will prove incredibly beneficial to your company.
"In addition, all members are invited to become part of a board; sitting on a technical panel to review and develop new practices which will impact the industry and subsequently, their own business. Members can be anyone based on the high street; from small, local independent businesses to big name companies, you can reap the benefits of endless opportunities with HAE. Members come to us because of our reputation for setting out clear terms and conditions and industry standards; we are a non-profit organisation, so any money we make is put back into the industry."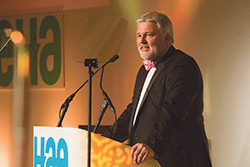 Additional benefits of association membership include guidance in relation to insurance, codes of practice and financial planning, and the guarantee of keeping completely updated with the latest happenings through exclusive events and multimedia and printing strategies. Evolving businesses through training and certification is also a possibility with HAE, as specific courses and qualifications can be pinpointed to assist individuals in moving forward on the career ladder.
HAE attend lots of trade shows, including many regional events. "We recently hosted the Hire Awards of Excellence 2015, an annual awards evening which is the only event held in the hire industry for the hire industry," Ann detailed. "380 people attended, and it was a remarkable evening celebrating achievements across different categories, highlighting many successful individuals and businesses in the hire industry."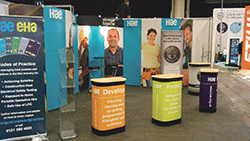 The company are due to attend the Showman Show in October at the Newbury Show Ground this year and the Executive Hire Show in February 2016. On 22-23 September 2015, the HAE EHA Hire Convention will be in full swing, the event of the year for all organisations working in the hire industry.
"We are aiming to continue growing at a nice, steady pace," Ann said when discussing what the future holds for HAE. "The plan is to get all members accredited with our (private) SafeHire standard, a certification formed in association with the British Standards Institution (BSI), Health and Safety Executive (HSE) and Contractors Health and Safety Assessment Scheme (CHAS). This is conducted on-site, and verifies that organisations are compliant with quality, health & safety, welfare, environmental and quality principles."
T 0121 380 4600
mail@hae.org.uk
www.hae.org.uk