Thousands or tens of thousands is a quantity barely explored in the additive manufacturing arena.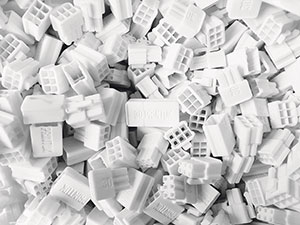 However, 3DPRINTUK is making waves in the field of low to mid volume batch production with its bank of in house SLS printers.
Having developed a method for packing and cleaning production run parts, the team at 3DRINTUK have been able to drop their prices and lower their minimum part cost to levels way below their competitors.
Focused on production runs, 3DPRINTUK has been able to bridge the gap between additive manufacture and injection moulding for small items.
"The viability of using SLS as an alternative to injection moulding really kicks in with smaller items; there are no set-up fees, only a unit cost, so for small parts with volumes of up to 10,000, it's a no brainer," says Nick Allen, founder of 3DPRINTUK. He added, "The more complex the part the higher the viability as equivalent tooling cost becomes astronomical. We had a breakeven point for some electrical connectors we produced at 20,000 units for print vs. mould (pictured). These really hit the mark for our set up as they're both small and complex. Using our free polishing service, the parts are near injection mould quality as well."
The company offers free samples for production runs based on a refund of the test models up to the cost of the minimum order if an order is placed. It is also there to help with the design process if required with its in-house CAD team.