BeBa Energy UK Ltd, one of the UK's leading commercial solar developers, installers and asset managers, has invested in an innovative panel-cleaning robot.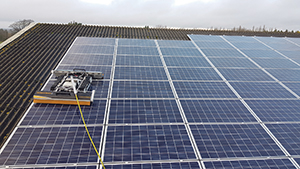 The radio-controlled robot, first purchased in Summer 2019, was tested rigorously before being put to work cleaning solar panels across the country.
"The primary role of a solar panel is to convert light into electricity," commented Shaun Beattie, BeBa Energy Sales Director. "Sadly, the cleanliness of a solar panel is often overlooked. This will result in lower performance and, in some instances, the early degradation of the solar cells."
In addition to providing a superior clean, the robot is designed to protect BeBa's staff and customers. "For us, the health and well being of our staff and customers is something we place above all else; the radio controlled robot allows our teams to clean solar panels from the relative safety of a cherry picker or tele-handler. Another benefit is performance; traditional pole-cleaning systems either apply too much pressure to the panel or not enough. The robot applies just the right amount of pressure to lift dirt without cracking the fragile solar cells," Shaun added.
T 01442 220100
info@beba-energy.co.uk
www.beba-energy.co.uk