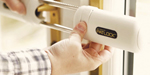 Sales of home security device Patlock have boomed since its appearance on BBC Two's Dragons' Den earlier this month, with a year-on-year increase of over 200%.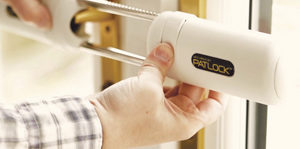 Craig Knott, founder of the French door locking gadget, was grilled by the Dragons on our screens on 5 February and – despite leaving the den without funding – he's seen his sales go through the roof as a result.
The appearance in the Den follows Craig's awarding retail distributorship of Patlock to Burnley-based outdoor living brand Bar-Be-Quick in late 2015, mere months before the filming of the show. Bar-Be-Quick's existing channels facilitate listings in stores and online.
The Patlock (RRP £64), which has been designed and developed by Craig in the UK, assists home owners in securing their property against burglars and the method of forced entry known as lock snapping.
Lock snapping involves the breaking of the cylinder from a UPVC door, which enables the trespasser to manipulate the lock to open it. When compromised, the cylinder renders all of the other locking points useless.
Patlock removes the risk of lock snapping by securing all shoot bolts and levers, ensuring that the doors remain in the locked position.
T +44 (0)1274 590022
www.patlock.co.uk