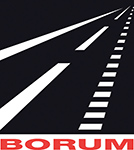 Having extensive local knowledge of the UK market and decades of experience, Borum supplies a wide range of self-propelled line marking machines and truck solutions.
High capacity trucks for hot thermoplastic, cold paint or 2 component
Borum trucks allow for highly efficient line marking to be performed over extended road segments. This is a result of Borum trucks' large tank capacity and increased operator safety.
All Borum trucks are customized in close co-operation with customers in order to make sure that all line marking requirements are addressed. Therefore, customers have the flexibility to determine every aspect of the truck's layout such as tank type, tank capacity, application equipment, number of spray guns, etc. in accordance to their needs.
In terms of application equipment, Borum trucks can be supplied with marking equipment for thermoplastic, cold paint or 2 component application and allow for simultaneous marking on both sides.
Line marking in wet conditions
The Borum Zirocco jet dryer works on a micro gas turbine and has an output of 100m³ of airflow per minute. This ensures that the Jet dryer can efficiently dry wet roads, allowing line marking to be done in wet conditions. Furthermore, it can be utilised for removing black ice and chewing gum from various surfaces.
Borum Industri HQ, Denmark
T +45 87 613 213
info@borum.as
www.borum.as
Borum UK Partner
T +44 (0)1284 704721
M +44 (0)7860 682563
colin@greenassociates.co.uk