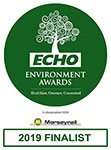 Cataclean has been announced as a finalist in the 'Green Business of the Year' category of the ECHO Environment Awards from the Liverpool ECHO.
Celebrating true excellence and honouring "clean and green heroes", the regional newspaper awards recognise the successes of environmentally-focused businesses, community groups, schools and individuals striving to make Merseyside a healthier, greener and more connected place to live and work.
Cataclean, which was established in 1995 and produces a fuel additive that can bring down a vehicle's toxic emissions by up to 60%, is in the running for Green Business of the Year as "a business that has the environment or well-being at the centre of its operations".
Crucially, it has been working closely with businesses and Merseyside councils such as Sefton to help them bring down the nitrogen oxide (NOx), carbon monoxide (CO) and carbon dioxide (CO2) emitted from their petrol, diesel and hybrid vehicles, from taxis and refuse lorries to buses and boats.
Supporting the Let's Clear the Air Liverpool campaign, Cataclean has also formed a partnership with Unite the Union Liverpool taxi branch, conducting a series of tests that brought levels of nitrogen oxide down by 28% and carbon monoxide, carbon dioxide and hydrocarbons by up to 70% in a fleet of the city's Hackney cabs.
Mike Harrison, business development manager at Cataclean, said they were absolutely thrilled to be a finalist. "We are extremely proud to be recognised as a team firmly committed to improving communities' air quality and ongoing investment in producing uniquely-formulated products that genuinely help to protect the environment. In recent years, we have watched our products go from being part of general vehicle maintenance routines to being seriously considered as an innovative solution that can be used as part of local authorities' pollution strategies. This is a huge achievement for us."
The ECHO Environment Awards, now in their eighth year, will culminate in a special celebratory ceremony and dinner in May at the Isla Gladstone Conservatory in Anfield, where the winners will be revealed.
For Green Business of the Year, sponsored by Merseyrail and open to businesses established for more than two years, judges will be looking for evidence of innovation, investment in new technologies, excellent staff engagement and the impact in the community and environment.
Metro Mayor of the Liverpool City Region, Steve Rotheram, said, "A key element of the year is showcasing good work around environmental initiatives, which is why I'd encourage people to vote for individuals, businesses and organisations who they think are making a difference, in the ECHO Environment Awards."
Other award categories are Healthy Living, The Re-use and Waste Prevention Award, New Green Business of the Year, Carbon Champion Award, SR Award, Community Impact Award, Green School of the Year, Young Environmental Champion and Environmental Champion.
As well as bringing down emissions by up to 60%, helping motorists pass the tough new MoT emissions test, Cataclean cleans, restores and protects a vehicle's complete engine, fuel and exhaust system, improving performance and MPG.
Find out more about Cataclean, which is carried on the RAC's fleet of breakdown vehicles, at: www.Cataclean.com
For more on the ECHO Environment Awards, visit: www.liverpoolecho.co.uk/news/launch-date-categories-revealed-echo-15720207