London Electronics Ltd makes a wide range of high performance yet affordable large digital displays, digital panel meters and controllers, all designed and built in the UK.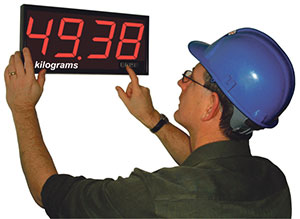 These displays accept most industrial sensors and signals, and can be easily scaled to display exactly the readout you need to keep your team informed of important live process variables.
Ideal for showing synchronised time across your factory, temperature, humidity, weight, pressure, RPM, total, takt time, etc.
They come in a wide variety of digit heights, colours and number of digits, with a handy online configuration and pricing tool to make selection and pricing easy.
They are sealed IP65 all round and are designed for use in washdown and other harsh industrial environments.
Ideal for any process monitoring or control application. See the website for more information.
T +44 (0)1767 626444
www.london-electronics.com