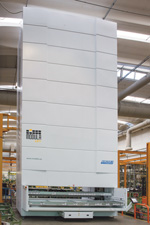 The company of the group specialised in vertical warehouses can rely on a sales network that embraces more than 50 countries in all the continents of the world, with dealers and branches that grow in their respective markets by empowering the brand with products that are extremely popular in each country.


The strength of Modula lies in its ability to serve every segment of goods. Indeed, in 2017 alone, a large number of brands, including several household names, chose Modula to automate their warehouses: Kuehne Nagel, Safran, Manitou, Conad, Tosano, American Airlines, Lamborghini, Banque of France, Brembo, BMW, CNH, Florim, Ferrari, Michelin, Porsche, Siemens to name but a few.
This significant growth in sale was also matched in the production department of Modula, which underwent some important transformations last year.
Having opened its second facility dedicated to shipments (with no less than 7 Modulas in function), the assembly of engines and electrical panels, the transformation towards a 4.0 factory is continuing to take giant steps. Two new Salvagnini lines arrived: anthropomorphous robots with built-in viewing systems, a sander and other technologies linked to steel processing.
In Salvaterra, the 4.0 factory is already truly up and running!
T +44 (0)844 902 8945
uk@modula.com
www.modula.eu