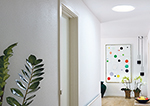 Leading roof window manufacturer VELUX® has launched the New Generation Sun Tunnel, designed to allow daylight to enter spaces previously inaccessible to natural light.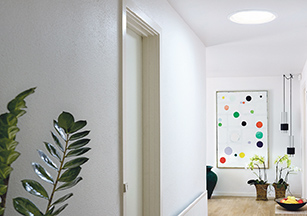 The new Sun Tunnel, a natural daylight solution for windowless areas, comprises a round, rooftop window and a tunnel to transport the daylight inside. The new, improved product means you can now help customers achieve a brighter, more natural indoor environment. This is due to Edge Glow, a new ring of clear glass around the edge of the ceiling diffuser that allows for better daylight dispersion.
The resulting natural light is more dynamic, more cost-effective and brings more health benefits than electrical lighting, as well as reducing energy consumption.
T 01592 778225
www.velux.co.uk