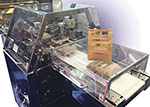 Paramount Packaging Systems Ltd – exclusive distributor of Fuji Machinery Company's horizontal and vertical form-fill-seal equipment in the UK and Ireland – has added a new in-line pre-creasing feature and standard gusseting device to its Fuji Alpha VII FW3710B box motion horizontal flow-wrapper.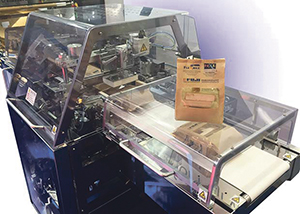 These latest enhancements enable the low maintenance, simple to use and energy efficient system to produce on-trend Block Bottom Gable Top Bags.
More commonly referred to as 'grab bags', these eye catching packs are becoming increasingly popular amongst UK retailers for wrapping gourmet sandwich ranges, whilst they are widely used overseas for multipacks of snacks and confectionery products.
Capable of producing up to 80 block bottom gable top packs per minute, Paramount Packaging's Alpha II box motion horizontal flow-wrapper also offers air-tight scaling for high speed gas flushing or modified atmosphere packaging (MAP) applications. With advanced heat pipe end seal technology, faster temperature control and high pressure sealers, the box motion horizontal flow-wrapper offers reduced energy usage and hermetic sealing making it ideal for high speed gas flushing or MAP applications where extended shelf life is a key requirement. Due to the additional dwell time, the FW3710B can seal thicker wrapping materials so is better suited to handling taller and heavier products. Other models in the Fuji box motion series are FW-3400B, FW3410B, FW3700B and FW-3710BSB.
T 01252 815252
fuji@paramount-packaging.co.uk