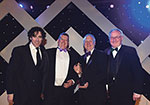 Cleankill Pest Control was named 'Green Business of the Year' at the 2017 Gatwick Diamond Business Awards on 16th March 2017.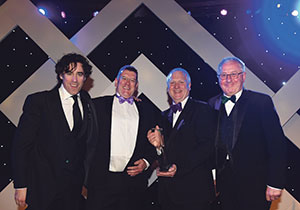 The award, sponsored by Crawley Borough Council, was presented to the company that exhibited best overall environmental management and provided the most outstanding eco-service.
Croydon-based Cleankill Pest Control is proud that the company provides a service which is both effective and environmentally responsible. Whether it is reducing its carbon footprint with low emission vehicles, or developing safer forms of pest control that decrease the reliance on harmful chemicals, Cleankill Pest Control is always looking for ways to diminish its environmental impact. This dedication to the environment has resulted in certification to the internationally recognised standard ISO 14001 Environmental Management and its recent successes in the 'Green' categories at both the Croydon Business Awards and the Gatwick Diamond Business Awards.
Councillor Geraint Thomas, Portfolio Holder for Environmental Services & Sustainability at Crawley Borough Council, sponsor of the category, said, "Pest control sounds like a challenging field for environmental care, travel planning, and animal welfare but, despite sounding like the next James Bond movie, Cleankill is dedicated to high standards & innovation in these areas."
The Gatwick Diamond Business Awards was hosted by actor and occasional presenter of Have I Got News For You, Stephen Mangan, and took place at the Copthorne Effingham Park Hotel.
T 0333 920 3857