We spoke with the Sales Manager at Kawasaki Robotics (UK) Ltd, Ian Hensman, to talk about the movements and successes of this established enterprise.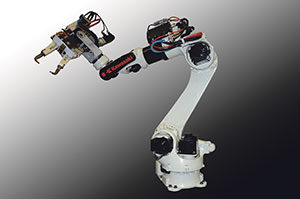 The UK branch, which forms part of the technological business solution provider Kawasaki Heavy Industries Japan, was founded in 1996 and is based in Warrington. It has progressively become, over the years, a reputable leader in the supply of industrial robots and robotic automation systems that is able to competently provide solutions for different applications.
"The main role of the company is to sell industrial Kawasaki robots across all industrial sectors," Ian explained. "We offer support from pre-sales, application simulations, service, training and spare parts to end users and integrators. We stand out in the industry because we have some unique products which, as of yet, our competitors do not, ie. a 7 axes highly polished stainless steel robot for the pharmaceutical and medical markets."

Kawasaki Robots is also an exemplary trader because it boasts such a large product portfolio – it is its extensive offering that has made it such an internationally sought after organisation as well as, of course, its ability to facilitate singular requirements with the delivery of a carefully chosen robot.
This flexibility has led to the company acquiring itself a wide-ranging customer base; companies within the aerospace, automotive, electronics, food & beverage, foundry, life sciences, machinery, metal manufacturing, plastics & rubber and semiconductor sectors have all made the most of Kawasaki Robots' services because in every case, a suitable solution has been provided with unmatched efficiency.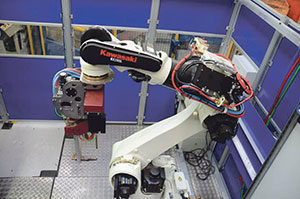 Particular applications whereby this technology has been of great value are: arc welding, assembly, cleanroom, friction spot joining, machine tending, material handling, material removing, painting, palletizing, sealing/dispensing and spot welding. Its clientele includes Toyota, Aston Martin, Heinz Foods, Pegler Yorkshire, Warburtons and Fox's Biscuits (to name a few core examples).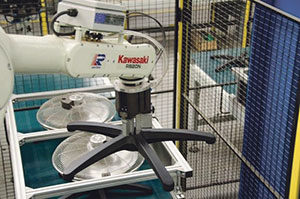 From its dedicated headquarters occupying 10,000ft² of operating space, Kawasaki Robotics is well equipped to complete all of the necessary activities; this includes everything from sales & customer support centralisation and training to robot testing and integration. There is also an area committed to running customer demonstrations and a stock holding facility for swift machinery supply and delivery.
When asked to discuss what the company has been up to in recent times, Ian concluded, "We have just taken on a new sales engineer to concentrate on the automotive sector and we will be looking to increase our sales and service teams further before the end of the year. We, like the majority of businesses, are looking to increase market share by continuing to offer excellent products at an attractive price, giving great value for money."
To date, Kawasaki Robotics has supplied more than 2,300 systems, which are now operational throughout the width and breadth of the country. Find out how the specialists can assist you personally by talking through your requirements with an approachable company representative today.
T +44 (0)1925 713000
https://robotics.kawasaki.com/en1/index.html?language_id=3