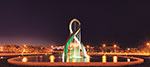 Conceived, engineered and fabricated in the UK, the Arches of Oman, a 12metre high water and steel sculpture, has been unveiled at the Royal Opera House in Muscat, Oman.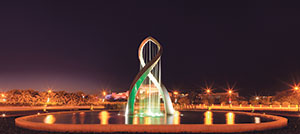 It is anticipated that sculpture, by artist Giles Rayner, will become an iconic symbol not only in Muscat, but in the wider Middle East. At its location, next to The Royal Opera House, the country's premier venue for musical arts and culture, the new sculpture offers unique views from all surrounding approaches. Its stunning design includes purpose built gardens, a purpose-built pool, 70 water jets, a subterranean plant room and 2km of hydraulic hoses.
The sculpture's jets provide four distinct patterns of water that project out of the piece and into the pool below. The sculpture is formed from duplex stainless steel, a material specified for extreme environments.
In their design engineering role, Generative Parametrics, based in Melksham, played a key part in the story of The Arches of Oman. The double curvature of the sculpture required their highly specialist 3D modelling and design engineering skills.
The company took Giles Rayner's concept and developed it for fabrication, designing all components from the flat and curved surfaces, the nozzle housing and all other elements within their sculpture. Their parametric modelling techniques were central to the complex inter-relationship of the 69 water jets and brackets, access hatches, and the 1km of internal hose housing.