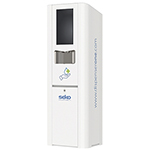 Global cleaning and hygiene expert SEKO has introduced to the market DispenserONE®, a groundbreaking hand sanitiser system that delivers unprecedented features for COVID-safe building management.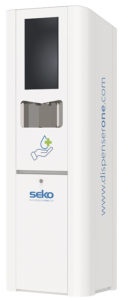 Providing as many as 25,000 doses of sanitiser between refills, the DispenserONE® range offers up to 25 times the capacity of a traditional dispenser, ensuring users always have access to a plentiful supply of product while vastly reducing replenishment frequency.
The system's mains-powered connection (with rechargeable battery models available), ensures 24/7 operation and removes reliance on disposable batteries, while automatic touch-free dispensing maximises user protection and infection control.
Powered by advanced pump technology, DispenserONE® delivers the same smooth, consistent dose every time with a reliability and longevity that fragile conventional units can't match.
Remote access is possible via an in-built Wi-Fi hotspot, enabling operators to view live statistics on sanitiser level and system status through their online dashboard and deploy maintenance staff to refill only when necessary.
DispenserONE®'s customisation options allow the unit to be branded with any colour or logo, while an optional 17" video screen can be used to sell advertising space, run promotions or display visitor information.
Visit: www.dispenserone.com or email: info@seko.com for more information.