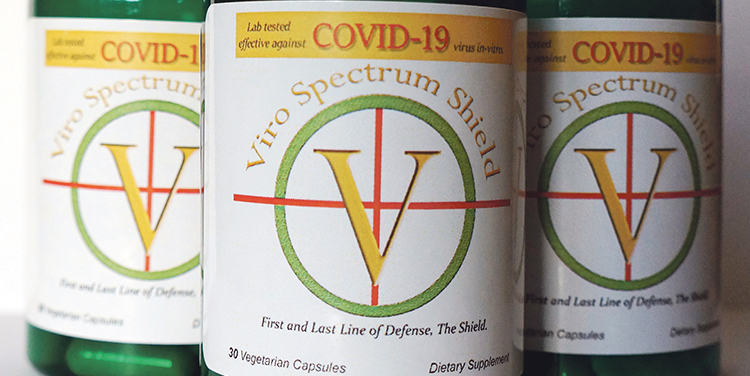 In this issue of Business and Industry Today, we are proud to announce that we have selected Green Star Products, Inc as our Virus Protection Company of the Month.
Green Star Products, Inc. (GSPI) is a leading research and development company of innovative and cost-effective green technologies, from homeopathic antiviral supplements to alternative biofuels of high quality.
"We develop environmental technologies and find joint ventures or contracts, to get those products out into the world, to find homes for the technology so that it can make improvements." stated Kristy Hunt, President of Green Star Products.
Starting as two prior companies, Green Star Products merged into one company, 20 years ago. Started by now Ex-President, Joseph LaStella a research scientist and engineer who still works with the company.
Kristy commented, "Joseph is patented in graphene technology, biodiesel technology, algae research and technology. He looks at things like algae biodiesel and graphene and he finds better ways to produce these items at a faster pace with less environmental impact. For instance biodiesel; he was able to find a way to make that in less than 1/10 of the time that it took before, and so he's been creating patents and ideas to help save the planet."
A pioneer and ahead of his time, Joseph has consistently pushed the boundaries of sustainable environmentally alternatives. Even his cars were ahead of their time and he set records for the longest-running electric batteries.
"The company was born through Joseph's ideas and research of what was possible without damaging the environment and ever since, he's been creating products and helping people improve their ideas. Putting out patents and creating amazing ideas and so now, I'm helping him make all of those things a reality and to keep his legacy going.
"I just came into the mix here in the last year and then was appointed President of the company in March," Kristy proudly stated.
The company maintains many commercial and industrial projects and works both solely and in partnership with other companies, on a global scale. The company's projects focus specifically on reducing environmental impact to improve efficiency and use only renewable, sustainable resources.
The most recent main developments for the company has been its determination to help provide assistance to fight against the COVID-19 pandemic. With this in mind on December 11, 2020, Joseph LaStella, announced that he had signed a Distribution Contract with Biotech Research, LLC, to market/sell its Broad-Spectrum Antiviral Product, Viro Spectrum Shield (VSS), in several South American countries.
VSS is a proprietary blend of natural herbs and native plants which has been proven to the help human body's natural defence system. Currently available in capsule form as a dietary supplement, the VSS has been tested by a Federally Accredited laboratory and has been successfully proven to inhibit the COVID-19 Virus in Vitro.
"This essentially has been used by people for the last 38 years that are in association with Joseph and the people he knew." Kristy explained, "He's always given this out over the years to people, for every virus and we've even had reports from users, which hasn't yet been tested in the lab, that people with herpes have reported that the virus has even gone away from using it, even by using it topically. We've heard of reports of shrinking tumours also, so the capabilities of this are still really untested. We'd like to do more testing on the product and I'd like to see it on the shelf of your nearest pharmacy, for people to go and take every time they have flu symptoms."
With not only verified lab-tested abilities, but still to be discovered properties, VSS has a multitude of benefits for users and has been proven to be effective in fighting against the COVID-19 Virus, the A/H1N1, A/H2N3, and the B/H2N3 viruses. What's more, lab testing and personal accounts have indicated that VSS has Broad-Spectrum Antiviral Capabilities and that infected COVID-19 patients with serious flu-like symptoms, have experienced significantly improved health and reduction of symptoms after taking the VSS, usually in 24 to 48 hours or less.
"We've had even couples who have had COVID-19, where one refuses to take it and the other does take it. The one that takes it is better in a day or two, and the other one is, unfortunately, either in the hospital or it takes 10 times longer for them to get better.
Kristy continued, "We're the only thing out there that you can take after being infected, that's been tested in a lab to fight the virus. The only one! Nobody else has come out with any research or any independent testing like we have; our testing was performed by the Federally Accredited Laboratory, Midwest Research Institute (MRIGlobal), who are also performing COVID-19 testing for the US Government. In fact, over a 10 year period, MRIGlobal has successfully tested our Broad-Spectrum Antiviral VSS formula. Specifically, it was tested in 2009 and again in 2020 against four different viruses in vitro including COVID-19, and it has shown high efficacy against all these viruses. Testing also confirmed, when used as a preventative, the formula had 99.9% efficacy against the COVID-19 virus. We have something natural, that you have never heard of and it can help you feel better."
Providing unmatched, verified results, the statistics speak for themselves. However, the American Government has been committed to the vaccine programme and has somewhat ignored the wealth of evidence being presented of the benefits of using natural products for fighting against the COVID-19 pandemic. This vaccine-only focus has left Green Star Products in a bind, as it continues to push the VSS forward, to get the news and benefits of the product, out into the world.
"Our government has put all of their effort behind a vaccine, they've felt like that's how they were going to protect their people, so the last thing they want to do is jeopardise it. But, we have a product that won't hurt you and it'll help you to get better and we're the only thing out there, that you can take after you're infected, that's been tested in a lab to fight the virus," stated Kristy.
Indeed, Green Star Products is undoubtedly focused on raising awareness of the broad scope of benefits and verified capabilities of the VSS. We spoke with Kristy about that the company plans moving forward, she stated that, "Working with graphene, it's an exploding industry right now and people are only just learning how to use it and so, now is the perfect time for us to go in there and say, we can make it in 1/10 of the time! It is a very different market now and the company has found its place, the world has finally caught up to us."
For further information, please see the details below.