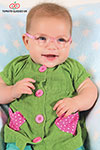 Following our successful attendance at 100% Optical with our South Korean colleagues, we continue to see an increasing demand for Tomato Glasses.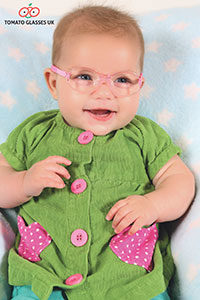 We launched the Kids C range at the show, a recent OMDA Finalist for 'Awards of Excellence' in Australia. It is proving a popular choice with our young customers.
Our new catalogue is due towards the end of the year which will introduce the Junior C range, a new design for older children. We hope this will build upon the success of the younger children's ranges and will continue to provide great fitting comfortable & highly adjustable frames as our young customers grow.
Our baby range had a new addition in February, a 39×14 frame to join our 35×13 and 37×13 frames. We see this as the most important age group to address and have been pleased to help many families though the initial, sometimes difficult stages of spectacle wearing when lifetime habits are formed.
As company MD and the mother of a child who has worn glasses from a month old, I measure company success not purely in financial terms but equally in providing opticians and parents access to these comfortable adjustable and fun frames.
T 01395 271417
info@tomatoglassesuk.com
www.tomatoglassesuk.com