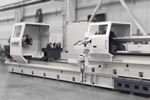 Alta Precision is an industry-leading manufacturer of commercial aircraft landing gear in Montreal, QC, Canada. When they recently expanded their production facility to introduce a new landing gear product, it was an opportunity to invest in updated capabilities.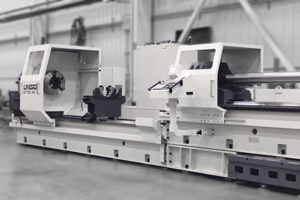 Alta was faced with sourcing equipment to handle the complexities of manufacturing landing gear struts for the aerospace industry. By nature, their components are highly stressed, complex, with thin walls in tough metals such as 300M alloy steel. They require a profiled deep hole to be drilled and machined down the centre.
At 9 in (230mm) in diameter and over 7ft (2.1m) deep, this hole can only be performed on a dedicated deep hole drilling machine, not a conventional machining centre. In addition to having the capability to machine these bores to strict tolerances, Alta was seeking a solution that allowed ergonomic setup and operation, with the versatility and power to handle a variety of complex parts in different lengths, on the same machine.
Their landing gear struts offered an additional challenge, with an asymmetrical feature that both requires a swing of 54in (1,370mm), and acts as an off-centre weight on a workpiece which is counter-rotated during the drilling process, essential for achieving the required straightness tolerances. All of these challenges exist in a single type of component that is essential to Alta's business.
Further information on all machines of the B series and the complete UNISIG machine program is available at: www.unisig.de or follow the company on LinkedIn and Twitter (@UNISIG).