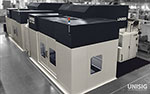 UNISIG adds five new models to its proven range of deep drilling and milling centres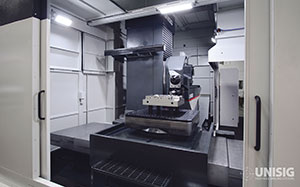 With the new range of UNISIG's USC-M deep drilling and milling centres, mould makers now have seven powerful and versatile solutions for workpiece diameters of up to 3,600mm and workpiece weights of up to 30t. All machines combine several processes in one machine: the deep hole drilling and milling on all four sides of a workpiece, while at the same time reducing setup times and increasing accuracy for mould makers. All machines support the high feed rates of modern indexable gundrill tools.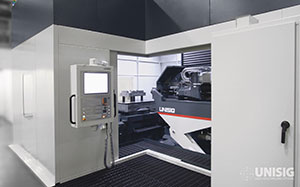 In addition to the use of gundrill deep hole drilling tools, some models can even support the more effective BTA deep hole drilling tools for the high performance drilling of waterline holes. A CAT50 quill allows you to perform all deep hole drilling and machining operations within the machine's working range. The machines are equipped with a 360° rotary work table and a programmable deep drilling and machining spindle. These can be aligned via a pivot axis with 30 degrees down and 15 degrees upwards. The latest Heidenhain TNC 640 CNC controller and Heidenhain motors and drives are used. A full guarding with oil mist extraction completes the equipment.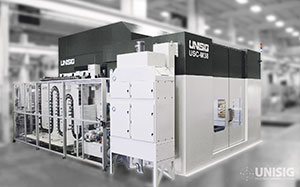 This machine series has now been extended by 4-6 axis machines, for deep hole drilling with gundrilling tools and milling, with a universal spindle and a short changeover between deep drilling and milling operations for the efficient production of small to medium sized workpieces.
In addition, 5-7 axis machines are available for the use of gundrilling and more efficient BTA deep hole drilling tools, each with a dedicated spindle for deep drilling and milling, to dramatically increase performance for mould makers.
High-end solutions include 7-axis machining centres for highly dynamic motion control, powerful milling spindle with gear reduction and optional pallet changer. With the model USC-M38, workpieces with a length of up to 2,000mm can be conventionally machined and deep-drilled in one clamping. The larger USC-M50 can handle up to 3,000mm long workpieces.
The machines can be equipped with an automatic tool changer with up to 120 tool positions, a laser tool presetter, workpiece probes, Heidenhain glass scales for increased accuracy, as well as an automatic pallet changer.
Further information on the USC-M series and the complete UNISIG machine program available at: www.unisig.com or at AMB 2018 18 – 22.09.2018 in Stuttgart, Germany, Hall 9, C13.