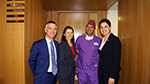 Amongst the most advanced private eye care hospitals in the UK, Centre for Sight celebrates its quarter century birthday, with internationally renowned founder, Mr Sheraz Daya reflecting on its 'incredible journey.'
In 2021, Centre for Sight celebrates 25 years of serving both the local and international communities with award-winning premises and technology. Founded in 1996 at the Queen Victoria Hospital (QVH) by Medical Director, Mr Sheraz M. Daya – an internationally renowned consultant eye surgeon – Centre for Sight has become an award winning and established leader in technology and eye care, pioneering several initiatives that are still in use today. Fast forward to today, the company now employs around 40 staff and spans three clinics in West Sussex, Surrey and London.
The hospital specialises in Vision Correction and Vision restoration surgery. This includes Laser Eye Surgery, Cataract Surgery, Lens Replacement Surgery and Retinal surgery. It's leaders have for several years been listed amongst the 100 most influential ophthalmologists globally. Its long-term aspirations include possibly extending its services to include patients under NHS care – an ambition that will likely include the development of other sites in collaboration with like-minded consultant ophthalmologists.
Reflecting on the triumph, Mr Daya whose centre now attracts Presidents, Prime Ministers and international royalty, said, "We are very thankful celebrating 25 years of successful practice. This has come about by really doing the right thing for patients and by working with a team of individuals with great values striving for similar goals." Over the years, we have been fortunate to have excellent administrative and clinical staff who have understood the Centre for Sight point of difference. I am pleased to say this continues with wonderful staff, one or two who have now passed the 10 and 15-year mark."
Pioneering Founder

After being appointed Director and Consultant Ophthalmic Surgeon of the Corneo Plastic Unit and Eye Bank at the Queen Victoria Hospital NHS Trust in 1993, for which Mr Daya particularly credits to his continued success, he has continued to perform pioneering work, most notably, the first LASIK laser vision correction procedure in the UK in 1995. Having felt dissatisfied with the limitations of eyecare provision in private hospitals, he then decided to open Centre for Sight.
Though there have been many achievements, he cites the 'integration of innovation, research, and technology with patient care' and the continued commitment to 'audit and constantly improve outcomes and set standards,' as amongst the most notable.
The centre has gained a reputation for becoming a reference centre for the Ophthalmic industry with international visitors regularly visiting to observe new technology. The Centre has in collaboration developed innovative techniques and instrumentation. A good recent example is the development of a laser eye surgery option , Transepi PRK in collaboration with Bausch and Lomb and now incorporated into their lasers.
"Looking back, I was perhaps a bit naive and did not realise what embarking on this project would involve," reflects Mr Daya. "Besides providing clinical care, there are so many other aspects involved in developing an organisation and like so many business owners, it has been sheer hard work with a fair share of sleepless nights. One of our biggest challenges was the financial crisis in 2008, which occurred while we were in the process of building both Oxshott and East Grinstead locations. We thankfully managed to complete both and keep our heads above water. Despite the challenges, it is wonderful to now revel in our accomplishments."
Thanking his ophthalmologist partner and wife, Marcela as well as his children, Olivia and Fernando, Mr Daya closed by saying, "I wish to extend my deepest gratitude and thanks to all staff past and present over the last 25 years. Finally, I am very thankful to all the patients who have entrusted us with their care. We feel very privileged and fortunate."
T 0808 149 9538
www.centreforsight.com