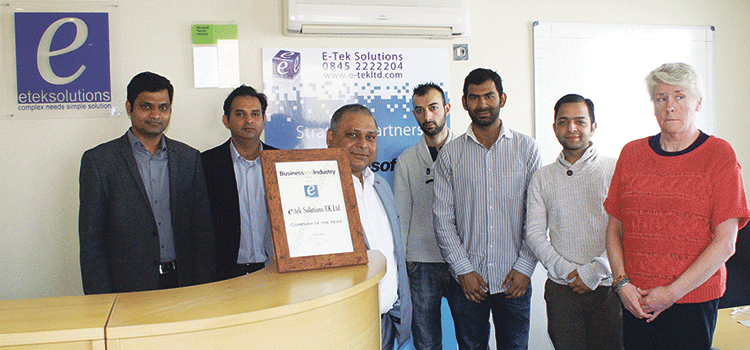 Business and Industry Today is proud to present its richly deserved and highly acclaimed EPOS Solutions Company of the Year award to e-tek Solutions.
The bespoke EPOS solutions provider occupies a specialist suite of software for supermarkets, convenience stores, restaurants and fast food outlets. Their dedicated team of software developers and support engineers has the capability to provide comprehensive customised solutions, from client requirements to installations. Their specialties include EPOS software, POS integrated CCTV, integrated weighing scales, integrated chip & pin, and customised reports and analytics for various sectors. Their consistent success has resulted in the establishment of operations on a national scale (as well as all in the UK).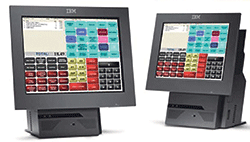 The company is well positioned to meet the everyday needs of contemporary business demands, because they have over a decade of experience in providing EPOS solutions to the hospitality, retail, fast food and retail food segments. They are well regarded in the industry because they are renowned for providing excellent performance rates in all associated areas, including software development, communication, training, support and maintenance.
e-tek has a department in Houghton Regis in the UK, whereby an in-house call centre offers support to customers regarding all of their after-sales needs. Their dial-in facility enables the team of highly skilled and informative staff members to answer calls around the clock to pinpoint and rectify system issues.
e-tek Solutions is greatly appreciated by many renowned clients. Its retail customers include Costcutter/P&H, Premier, Londis, Spar and Nisa as well as independent retailers such as Goldens, Noori Foods and Bangla Station etc. Fast food, hospitality and other retail clients include names such as Ambala, Kebabish Original, Chicken Cottage and Dixy Fried Chicken.
Rakesh Sinha, Managing Director at e-tek Solutions, said the company has received plenty of interest in the past year, resulting in continual business growth. "The last 12 months we have been focused on international expansion as well as the customisation of products for various markets," he commented. "We have worked very hard to ensure that we meet all of our clients' expectations in the Indian and Middle East markets in order to secure a successful launch. We have managed to identify partners for the Middle Eastern market, where we are currently in the final stages of executing contractual obligations.
"We have also continued to work with our team in India; where we are partnered with AGS Transact Technologies, the country's leader in the POS market. Through this partnership we have been able to win tender for installing POS at 300 Forecourt convenience stores of Bharat Petroleum Corporation Limited, a government of Indian undertaking. In addition, we launched our fifth generation POS system built in .net technologies last year, in order to further enhance our ability to meet our customers' specific requirements."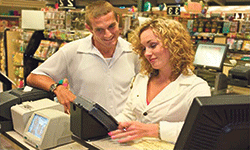 Financially, e-tek has managed to stay grounded, despite the ever-fluctuating nature of today's economy. In fact, it appears that even though the company has encountered difficulty because of it, they have still taken this hurdle in their stride, seizing every possible opportunity to acquire business where they hadn't previously: "The current economic crisis has certainly affected our growth at our company's base. However, it has enabled us to explore an international expansion route which has brought us some very good prospects, and we have still managed to exceed sales by 15% against forecast.
"I understand that there have been signs of recovery in the UK market, and I am hopeful that we will effectively boost our sales here in the coming months. We are now fully geared to offer great product and support services for both our local and international customers."
When discussing current changes to the structure of the business, Rakesh said: "We have just acquired Microsoft Gold Partnership eligibilities for application development; an association which will help us to further develop our product proficiencies.
"We have recently integrated the work of our development and support teams in both India and the UK. For India, this will help in training the department for the local market, whereas this will ensure improved round the clock services in the UK. Overall, this will allow us to implement common standards, tools and processes to better our capabilities for customer support."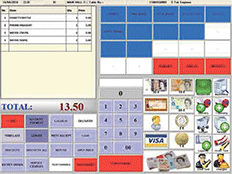 In regards to future developments, the company is set on growing even bigger by breaking into different areas of the industry. "Looking forward, we are primarily aiming to focus on product innovation and reaching out to new markets," Rakesh explained.
"In the long term we are looking to add new cloud and mobile based solutions to both new and existing markets. We feel that these products are likely to bring a paradigm shift in POS solutions.
"In the UK, we are working to introduce our existing customers to the possibilities of upgrading, using the latest software built in .net technology. We are continuously trying to evolve with a new breed of technologies and solutions, and in order to do this successfully we have made a significant investment into product innovation and development this year."
When asked about being chosen for this prestigious profile, Rakesh concluded: "Winning this award has put a big smile on our faces here at e-tek. It will certainly encourage us to work even harder and excel further into our chosen business areas."
T +44 (0)845 222 2204
info@e-tekltd.com
www.e-tekltd.com