At Business and Industry Today, we like to feature companies who are truly leading the way in their industry sector, using their expertise to offer products and services of the highest quality. For this reason, we are proud to announce that ElectroCraft has been selected as our Motion Control Company of the Month, for its expert provision of electric motors, drives and motion control solutions for OEM customers across the world.

ElectroCraft is owned by DMI Technology and has been manufacturing electric motor products for over 100 years, bringing unrivalled experience and expertise to the industry. With its headquarters in Stratham, New Hampshire, ElectroCraft operates internationally, with manufacturing facilities in North America, China and the UK.
Committed to adding value to an extensive range of markets, ElectroCraft works with OEM customers who are unsatisfied with having to design around inflexible off-the-shelf products, using unparalleled technical knowledge to manufacture first-class products. Its customisable product families provide a design experience which results in motor and motion systems that deliver superior reliability and performance at the lowest possible cost. "ElectroCraft was formed to build custom motion solutions for our OEM customers," explained Scott Sizemore, Director of Commercial Marketing. "This provides innovation for a better and safer life for current and future generations."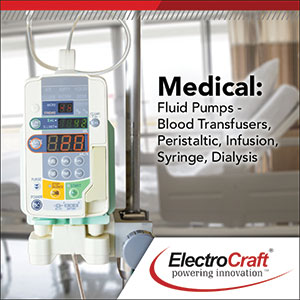 "We service a wide range of markets," said Scott. "Some of our more interesting, challenging and successful motion control projects have recently been in the areas of medical and scientific equipment, HVAC applications, mobility and mobile platforms, agriculture, industrial machinery, and transportation markets." Indeed, for the medical sector, ElectroCraft offers mobility solutions including motorised wheelchairs and sophisticated automated medical equipment, ensuring every solution is designed for each specific application.
The company's extensive product range features application-engineered speciality fractional-horsepower motor and motion control products, providing power critical components for some of the world's most innovative products in an extensive range of applications. With a firm foundation of experience and comprehensive knowledge, ElectroCraft provides advanced precision solutions with the highest reliability. Indeed, these accolades ensure the company is well trusted by both the largest brands and the newest cutting edge companies, cementing its status as an industry leader.
We also asked Scott about some of ElectroCraft's most notable products. "The RPX and LRPX BLDC motor and gearmotor line-up is formidable and innovative! It has high torque density and a small form factor. This means it is small and powerful. The geared LRPX versions also feature a unique integrated gearbox that allow for maximum torque from a BLDC motor at peak efficiency."
Indeed, the RPX range includes highly dynamic and controllable very small frame metric motors. It features an advanced 8-pole encapsulated core, and this compact DC motor also offers high torque density at a highly affordable price. The range consists of 12V, 24V and 48V versions, and is fully customisable, like all of ElectroCraft's products. Remaining highly versatile and energy efficient, the motor is ideal for embedded applications, and all versions include hall sensor feedback and can be configured with an optional encoder.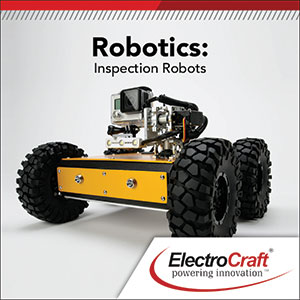 The LRPX range consists of exquisitely efficient small form factor BLDC motors, offering peak operating efficiency at traditional RPM ranges and allowing custom integration with a planetary gearbox. It offers high torque from a small form factor, with low power consumption and peak performance at a lower RPM to allow for quiet operation.
Indeed, traditional BLDC motors have peak performance at very high RPMs, speeds which are too high to make efficient use of a gearbox. The LRPX integrates the RPX series motor with a custom planetary gearbox, resulting in a small form factor BLDC motor than can produce high torque at a low RPM.
"The ElectroCraft MobilePower™ products are also an exciting area of growth as they are the motion foundation for a wide range of mobility solutions including AGV, AMR, Medical Mobility solutions, and more." Certainly, ElectroCraft's MobilePower™ gearmotors offer an integrated design, providing increased performance and reliability at an affordable price. These are also entirely customisable to meet any specific application requirements.
"We continue to get better as we remember that we are in business to power innovation and give customers control over their design, we find ourselves better equipped to provide solutions needed in emerging markets. As we look to the future, we will continue to invest in design, manufacturing, and continual operational improvement."
Undoubtedly, ElectroCraft has an admirable array of products, with manufacturing capabilities which are fortified by over 100 years of experience and highly skilled staff. This impressive offering will only serve to solidify the company's already enviable reputation in the industry. If you would like to find out more information on ElectroCraft's full range of products and services, head to the website or get in touch using the contact details below.
T +1 (844) 338 8114
F +1 (603) 742 9080
sales@electrocraft.com
www.electrocraft.com