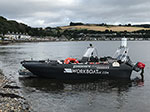 Workboat UK quickly established themselves as a professional, honest and expert marine boat and pontoon hire service over their relatively short operating time. And at Business and Industry Today we're always on the lookout for businesses that offer more, and so with no hesitation we decided to profile Workboat UK as our Vehicle Hire Company of the Month.
Workboat UK was established in 2017 by owner and Managing Director John Hitchcock with the aim to offer an honest and professional marine boat and pontoon hire service. Based in Aberdeen, Workboat UK works alongside the long established and hugely respected Caley Marine, itself based in Inverness and owned by Managing Director Jamie Hogan.
John and his team pride themselves on offering a professional customer focused approach. They take time to understand every client's hiring needs before offering the best solution, and the equipment supplied is some of the more robust and fully equipped marine boats available – the Norwegian Pioner series.
We had the opportunity to speak with John Hitchcock and he explained what separates Workboat UK from the competition along with a little more about his company.
"I wanted to offer a customer focused service to clients looking to hire marine equipment. We're dedicated to offering clear and accurate advice that fits in with a customer's exact need. Increasingly clients want more than just a product; they need to know they've been listened to and the advice they've been offered is sound."
"To ensure we are leading the way with pricing we offer our boats for hiring without the requirement to include a skipper. Other companies hire out boats with a skipper as standard and this can inflate hiring prices considerably, whereas we believe the customer should be able to choose everything, from the boat and how it is kitted out, to length of hire and skipper requirements especially as many of our customers have fully qualified skippers in their teams already – offering a truly bespoke service."
Workboat UK's customer focus and expert knowledge would be useless if the boats and pontoons used were not up to the task required. This is why John teamed up with well-established Caley Marine. Their reputation for sourcing the best boats is second to none.
"Caley Marine supplies us with the extremely robust, agile and configurable Pioner series crafts. The sheer number of options and versatility available is astounding. Made using rotation-moulded polyethylene, the Pioner boats are extremely rugged and durable. They have a double skin design so even with severe deck flooding they remain buoyant and will self-drain."
"From the Pioner Multi Mk3 which we can provide fully MCA coded to work 'At Sea' with its enormous carrying capacity, superb sea keeping abilities and unique front opening bow door, to the Steady series with impressive stability characteristics increasing safety and making them ideal for those who are new to boat handling or experienced crew aware of their need for a robust workhorse which can be carried to remote inland locations, we can supply a boat for any need."
Although Workboat UK has only been operating a short time their reputation for offering an honest professional service has seen some impressive clientele such as the BBC and the Environment Agency.
"I'm pleasantly surprised with the types of use our services are seeing. Whilst we offer our services to anyone, offering full briefing of equipment and controls, we originally thought marine industries supporting survey, inspection and construction would be our main focus. While yes we generate a huge repeat business from companies within this sector, we're seeing a massive use of our services within film industries and leisure sectors which keeps life interesting."
Ensuring the longevity of his company, John's always listening to the feedback received from clients, and through understanding customers' needs he's able to ensure Workboat UK are ahead of the competition offering the best services and equipment available.
"Because we offer truly bespoke hiring services it's important we take feedback on board. Repeat custom is only possible through being as passionate as the client and offering them what they need, when they need it. We offer our services for any use and our hiring criteria's minimal. We just ask for a Powerboat level 2 accreditation, and the client to provide their own insurance."
To view the extensive range of models in work boats and pontoons available at Workboat UK visit the website below. Alternatively contact John directly to discuss your marine requirements and he'll professionally assess your needs, offering advice on the best boat for your specific application.
Contact
M 07802 308384
john@workboatuk.com
www.workboatuk.com