Business and Industry Today is extremely proud to present Euro Towers as its selected Access Equipment Company of the Month.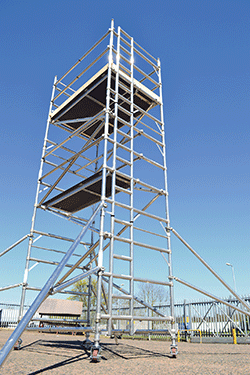 As the leading UK manufacturer, exporter and innovator of new products and suppliers of Mobile Aluminium Access Towers and access equipment, Euro Towers provide solutions for commercial working at height as well as low level folding units and podiums, to meet the requirements of both domestic and industrial users.
Currently celebrating 24 successful years in the industry, Euro Towers prides itself on manufacturing and supplying an exclusive range of products, all of which are manufactured in Northampton, UK. The company was set up by Roger Verallo in 1991. Using his many years of experience in the industry, Roger decided to set up the company to offer customers an affordable, personal service. He is committed to best practice and safety not only for Euro Towers, but for the industry as a whole.
Roger commented, "At Euro Towers we have a very simple philosophy; our customers are the most important part of our business. As a truly independent company we are totally dedicated to supplying our customers with quality access equipment products, at competitive prices with a service which is second to none.
"All products are manufactured in the UK and meet the specific European standards. We ensure we keep an eye on the whole manufacturing process to make sure our customers get the best products available. We can even manufacture aluminium towers to your specific requirements."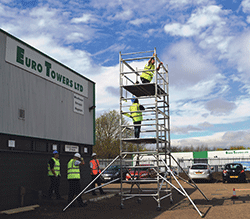 Since its start up, Euro Towers has grown into one of the world leaders in affordable mobile access towers, low level access products and associated safety training. As a B2B and end user supplier, the company continues to provide and develop new and exciting high quality products to keep people safe whilst working at height all over the world. All products are tested and certified to the latest European standards.
The company's main product range is Mobile Aluminium Towers. With a system to suit every application, the towers range consists of Ladder Frame Towers, Advanced Guardrail Towers and 232 Towers, all of the tower range is available in double width and narrow width and are approved to BS.EN.1004 3 8/12XXXD European Standard.
Recently introduced into the Euro Tower range is the Euro One, a one man mobile tower system. The innovative creation is easy to erect and dismantle by one man with the base unit forming a trolley for fast storage and transportation. Working at heights up to 6.10m, the system offers 4 platform heights and a compact 1.2m x 0.7 base size. It has a one size frame with an easier build and effortlessly fits through standard doors. Since its first production only a year ago, the system has proved to be an extremely successful addition to the Euro Towers Range
Euro Towers is also a registered PASMA Training centre; based in Northampton the centre provides various training courses such as towers for users, low level access, towers on stairs and a combined tower and low level course.
Roger stated, "At Euro Towers we promote an environment to encourage our employees to learn as individuals and grow as a team. We believe in delivering quality working at height equipment and offering the right training to enable people safely work at height.
"We are deeply committed to working with our consumers to develop their businesses and our company is continuing to enhance its name as a great reliable supplier to work with."
When asked to discuss the company's plans for the future, Roger concluded, "Over the last few years we have expanded further in the Middle East and Europe and in the UK we have recently taken on a new, experienced sales person. Our aim is to continue this expansion, growing the company and promoting our quality products whilst maintaining our promise of delivering a first class, personal service to each and every customer."
T +44 (0)1604 644774
sales@eurotowers.co.uk
www.eurotowers.co.uk