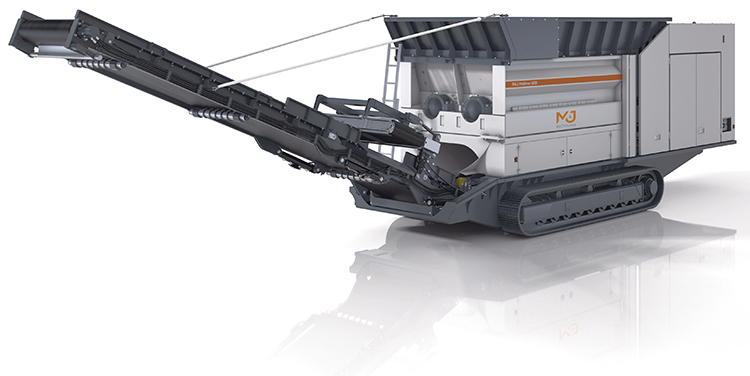 In this issue of Sustainability Today, we have chosen M&J Recycling as our Waste Shredding Solutions Company of the Month.
Formerly known as Metso Waste Recycling, M&J Recycling specialises in the design and manufacture of industrial waste shredders. As developers of the world-renowned range of M&J PreShred industrial shredders along with the M&J FineShred range of secondary shredders, its shredders are designed to reduce the size of waste materials effectively and reliably. "We have more than 1,000 installations worldwide and alongside our continued focus on R&D innovation, we are one of the world's leading suppliers of industrial waste shredders for the recycling industry, backed up and supported by a global network of sales, service, parts and maintenance partners and distributors," stated Dan Fairest, Area Sales Manager.
The first industrial shredder was designed and produced in 1988 by the original M&J Industries, which was founded in 1857 by Messers Moeller and Jochumsen as an iron foundry. In 2009, the company became part of the Metso organisation and in 2021 returned to its roots as an independent company known as M&J Denmark A/S, trading as M&J Recycling.
Headquartered in Horsens, Denmark, M&J Recycling has an established global presence with offices in the UK, Germany, Thailand, China, USA, Sweden, Poland, and South Korea. As designers and manufacturers of specialist size reduction and shredding machinery, its solutions are strongly favoured for any waste recycling application that functions within EfW, hazardous waste, incineration, recycling, landfill, cement production, biomass and composting along with processing RDF/SRF, MSW, C&I, C&D, WEEE, metal, paper, plastic, bulky and wood waste sectors.
We spoke to Dan who explained the benefits of their products, "Our PreShredders are recognised as the preferred choice when it comes to processing raw materials. This is down to our patented open cutting table design which allows impurities and unshreddables to pass through without causing damage and reducing wear. They include large aggressive knives with high 'grabability' which eliminate the need for a pushing device and thus avoids bridging, and our hydraulic drive system which is incredibly resistant to shocks (from large unshreddable items) delivers a smooth power performance avoiding power peaks and therefore reducing consumption. Coupled with bi-directional shredding delivered by asynchronous motors, all help to deliver an unbeatable performance and throughput figures that help our customers to improve their operational efficiency, reduce risks and increase their profitability."
M&J Recycling is always looking at ways to improve its machinery and service offering. With a product portfolio that is continuously growing to adapt to the latest industry trends and requirements of the customer, M&J Recycling has some new products soon to launch that are set to revolutionise waste shredding production in the recycling industry. "Over the last couple of years, we have introduced a new PreShredder, the M&J K210, which sits in between our most popular model, the M&J 4000S and the M&J K160 (M&J 1000 as was) giving more flexibility to our PreShredder range. Last year we launched the M&J F320, the latest and largest model in our secondary shredder line-up. We are also introducing a new range of packages for our service offering. And, with IFAT coming around again this year, we have a new product launch which we are very excited about – watch this space!" stated Dan.
The M&J F320 is a heavy-duty-fine-shredder for production of RDF/SRF material. It is a powerful flagship in the line of its already strong fine-shredder series and targets the production of alternative fields such as RDF and SRF. Created from scratch the M&J F320 has a 35% lower operating expense making it the most competitive OPEX in the industry. Harnessing a more environmentally friendly approach, it uses 20% less power for installation, as well as operating at a 20% lower cost to alternatives. Some unique features include its cutting system that requires minimal daily maintenance. Once the rotor knives and static knives have been set in the initial setup, or after knife holders have been changed, it does not require routine adjustment. Along with its modular design that ensures fast servicing, M&J's service team have quick and easy access to everything and can therefore replace all wear parts extremely quickly to avoid lengthy maintenance. As it uses the M&J patented knife system, a single-rotor-fine-shredder can process a wide range of different materials such as refuse-derived fuel, hard plastics and loose material.
2021 was a landmark year for the company as it was divested from the Metso family and acquired by Ahlström Capital, who is a family-owned investment company that focuses its investment activity on industrial companies and real estate. Dan commented, "We are now known as M&J Denmark A/S trading as M&J Recycling. We are the still the same company, same people, same great shredders and embark on the same global locations and back up as before. This is great news for the business and has allowed us to become a truly independent business for the first time in many years which has given us the commercial freedom to forge our own path. This change has given us even more scale and coverage to help our customers with their operational objectives and future expansions."
Despite the unprecedented times that was thrust upon the world by COVID-19, M&J Recycling has successfully managed to exceed its targets over the past two years. With work remaining as busy as ever, the company is excited to get back out in front of the public to exhibit face-to-face once again. You can find M&J Recycling at IFAT 2022, in Munich and at RWM 2022 in the UK later this year where it will be exhibiting all new products and offerings.
UK Contact: Dan Fairest, UK & ROI Area Sales Manager
M 07341 885553
daniel.fairest@mjrecycling.com
www.mjrecycling.com