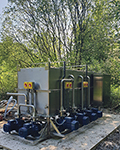 Leachate Solutions has designed and developed a more up to date process for the removal of dissolved Methane & CO2 from water & leachate.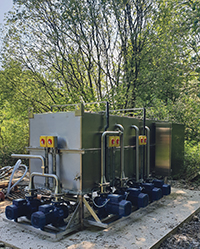 Using greener engineering, energy requirements are low due to an efficient design that operates purely 'on demand'. This results in a small carbon footprint plus reduced sludge production and calcification.
It is an eco-friendly alternative to the traditionally used 24/7 constant aeration systems. Older air stripped systems are now nearing the end of their useful life and are beginning to fail to meet current regulatory and environmental standards, says the firm. They are bulky, costly to operate and require a high level of maintenance. This system has benefited from over 8 years of R&D, using other technologies to provide a greener and more robust solution.
Additional advantages to this process:
Built with 316 stainless steel, which is considered to be a 100% environmentally friendly material. Less than 1% of non-recyclable material is used.
A cost-effective system with reduction in operational, maintenance and whole of life costs.
Built in back-ups/failover systems that ensure the system remains operational and reduces the risk of any possible negative environmental impact.
A fully automated system that can standalone in a remote location.
True flexibility is also offered, since the systems are tailor-made to site requirements, and are available as a self-contained unit for permanent installation or as a mobile unit, with scalability to meet a variety of needs. It has a small physical footprint (down to 3m x 1m), and it can be integrated with existing plant and equipment if required. There are already several in use on multiple sites across the Northwest.