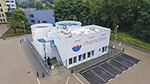 Pharmafilter Group Holdings IRL & UK is an innovative business model that provides an entirely financed Pharmafilter System to Hospital clients. This turnkey, as a service package encompasses construction, operation, permitting and finance enabling efficient allocation of project resources for client hospitals.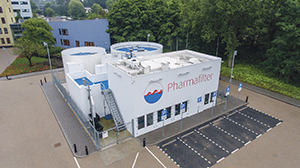 Globally, healthcare is significant challenged by rising antibiotic resistance and hospital acquired infection. In deploying the Pharmafilter system, hospitals are removing the input of pharmaceuticals, including antibiotics to the environment via hospital waste water – a critical point in antibiotic stewardship.
In addition, essential support services are automated, benefitting hygiene and patient and staff safety. From waste management to water use to the near zero carbon targets, Hospitals are operating under increasing environmental regulations at a time when demand for care is growing. Hospitals are required and expected to treat and care for patients while also contributing to a healthy society and sustainable environment. The decentralised Pharmafilter approach of combined onsite of hospital waste and waste water treatment has proven environmental benefits while improving patient care.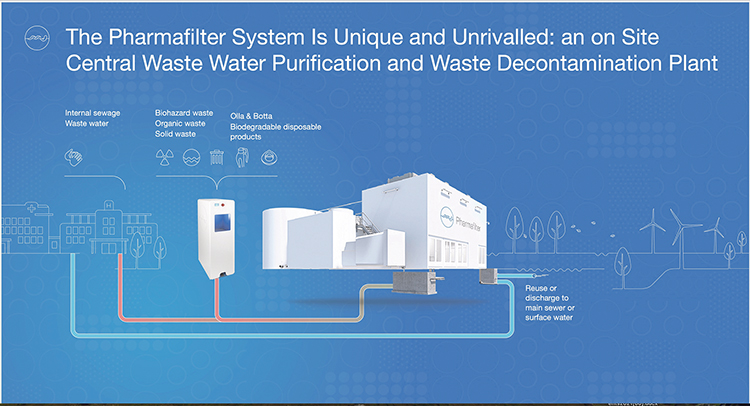 This advanced and unique waste and wastewater treatment capability removes all micropollutants, pharmaceutical and biological, to below the detectable limit. The system guarantees a complete effective treatment solution to hospital effluent before discharge to public sewer. The removal of these contaminants at source is far more desirable than decontamination at existing municipal facilities where the associated treatment costs are prohibitive.
Issues such as cross-contamination of clinical waste, the failure on occasion to properly segregate waste, together with the increasing problem of multiple antibiotic resistance; are competently addressed. Its system reduces the incidence of human contact from these process opportunities for human error, unintended contact or cross-contamination (both inside and outside the hospital).
The system is now regarded as critical healthcare infrastructure, safeguarding staff, patients and the environment which thereby, protects the environmental needs of modern healthcare, and further helps prevent the downstream pollution of valuable watercourses.

The Pharmafilter System removes harmful pathogens, micropollutants and multi-resistant bacteria have a critical role in developing strategies to tackle anti-microbial resistance. Current events demonstrate the devastating impact that a global pandemic can have on our society and the environment. Although expert opinion had warned of the potential threat of a global pandemic, SARS-CoV-2 has largely taken the world by surprise, in its rapid spread, the societal damage and scale of human suffering that it has wrought, resulting in long-lasting consequences for healthcare around the world. Nevertheless, antimicrobial resistance could very well be the next global pandemic. This should sound the alarm for healthcare stakeholders around the world!
Pharmafilter – A Cleaner Hospital, A Healthier Environment Where Health, Green and Clean-Tech Merge