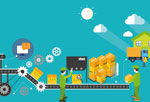 The e-commerce sector grows by the hour. In this fast developing market, can you answer the following questions?
What is the true cost of your packaging process?
When did you last review your transit packaging?
Do you experience product damage during transit?
Do you use the most appropriate packing materials?
Carlton Packaging are fast growing and forward thinking designers and suppliers of smart packaging materials. They help efulfilment operations throughout Europe make their packaging process loads smarter®. Often in this busy sector, tertiary packaging just 'happens.' Now it's your opportunity to work with a specialist provider to increase profitability and consumer satisfaction.
Working with some of Europe's largest online retailers, Carlton Packaging implements proven loads smarter® methodology with your team at every level, to achieve the most effective packaging materials and systems.
Increased process speed, reduced packaging waste and decreased operational costs are achieved through smarter processes, smarter products and smarter service.
With product innovation, razor sharp pricing and service solutions second to none, you'll be in safe hands!
Contact Carlton Packaging today to optimise your packaging supply and see how far loads smarter® can take your business.
T +44 (0)1908 277181
sales@carltonpackaging.com
www.carltonpackaging.com