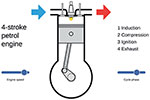 Within this issue of Business and Industry Today, we have selected Educational Publisher, A*Star Education Ltd, as our Educational Resource Company of the Month.
Educational technology company A*Star Education produces a variety of educational resources applicable for students from primary to university level.
They have two main products History Matters and Code the Curriculum, which both provide an impressive selection of educational resources.
History Matters is a digital resource of history books, bringing an interactive experience to learning and teaching history. Using the company's own technology platform Masterclass, History Matters is adaptable for an array of devices including interactive whiteboards, tablets and mobile phones. Accessible through both the website and app form, History Matters provides an interactive learning feature, with graphics and text which are readable, interesting and engaging. In terms of the history explored within History Matters, their interactive text books covers a host of countries and periodic times, including: First World War, Second World War, Romans and Roman Britain, America and American West, Tudors and Stuarts, Victorians, Saxons, Vikings and Normans and Ancient Egypt. For a price of just £80 per year, schools can gain access to more than 90 e-books relevant to both the primary and secondary syllabus, including GCSE textbooks, as well as interactive lesson presentations for teachers to use at the front of the classroom.
Code the Curriculum has been a recent development for the company, created on the premise of delivering a full coding environment to teach programming in school and at home, to encourage and develop high-level coding skills. Speaking to Ernest Sage, he told us that "Code the Curriculum provides a vast amount of instruction in a huge number of computing techniques, from the simple to the very complex, which solves real maths, physics and chemistry problems."
All of the programmes within Code the Curriculum use text-based language which resembles JavaScript, engaging with students to learn text-based coding which is used from key stage 3.
In a new approach to teaching code, Code the Curriculum produces programming resources which come in 3 courses: Introductory, Intermediate and Advanced, which are applicable for use in primary level learning all the way to university level. Teaching coding in a brand new approach, Code the Curriculum provides projects that cover a whole host of subjects and topics, and combine the use of code within other subject lessons such as maths, showing the relevance that coding has for these topics. "We teach students (and teachers) how to write programs that solve the problems they encounter in their maths, physics, chemistry and engineering curricula, rather than teach coding in the abstract." A*Star Education Ltd is leading the way in teaching students to approach each problem with the question of how they would write a computer programme to solve it.
The pace at which Artificial Intelligence is being adopted has meant that technology is able to take over not just the mundane tasks that humans perform, but even outperforms humans in jobs that require higher skills and judgement, and the pace is accelerating. At the same time it is leading to an increasing demand for skilled programmers which is not being met by an education system that has not focused on coding in the school curriculum. By enabling coding to be taught within the context of the main school subjects Code the Curriculum helps schools and colleges to teach a new generation of advanced code writers.
Speaking to Ernest about the importance of code learning, he told us that, "Coding is a vital skill and forms only a small part of computer science courses in the UK – unbelievably the ability to write a computer program does not actually contribute to the mark in a computer science GCSE."
In the USA, coding is recognised as the language of technology and only 3% of Americans are literate. It's the same in the UK.
T 01480 459480
www.astar-education.co.uk