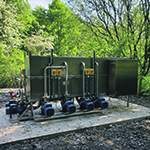 Leachate Solutions specialise in Leachate Treatment and have now introduced a New & Alternative process for the Removal of Dissolved Methane.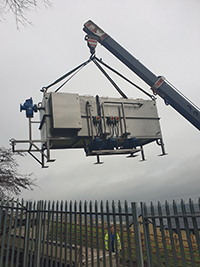 The design is unique and offers a serious alternative to the traditional treatments available. It has the additional features of:
Cost-effective
Eco-friendly
Energy saving
Minimal maintenance
Reduced sludge/calcification
Small physical footprint
Scalable/mobile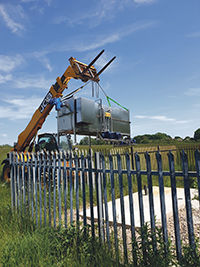 Leachate Solutions is the UK's only designer and manufacturer on the market of airless CH4 (methane) stripping plants for water and leachate.
Providing over 35 years of engineering excellence, Leachate Solutions has created a remarkable product portfolio that is backed by the highest quality technical expertise in the water and wastewater industries. Marketed as an engineering solutions and consultancy company, Leachate Solutions specialise in leachate treatment and is an expert in the alternative process for the removal of dissolved methane from water and landfill leachate.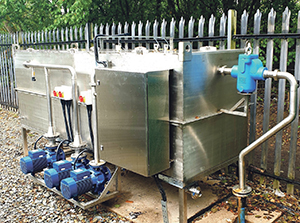 With no two projects being the same, Leachate Solutions develop ways of working based on its own experience. Working with clients' requirements, the company aims to meet the specific objectives and milestones set in the most cost-effective and environmentally friendly way possible.
Over the past eight years, Leachate Solutions has recognised how costly older air stripped systems are to maintain and how increasingly difficult they have become to keep compliant. Designed and developed at its manufacturing facility in Lancashire, Leachate Solutions has created a modern alternative process using the latest in airless stripping system technology, that has increased advantages over older traditional air stripping systems.
The airless CH4 stripping plant offers a modern, eco-friendly solution for the world today. Through an extensive eight years of research and development, Leachate Solutions has developed and now offer a new alternative process to choose from, using newer technologies to provide a greener and more robust solution.
Blending technical expertise with consistent market research and know-how, the airless CH4 stripping plant simplifies complexity, streamlines processes, reduces risk, and lowers the total cost of ownership. In simple terms the airless CH4 stripping plant removes Dissolved methane from water and leachate discharges to create a more efficient, safe and compliant discharge. This process is now considered to be BAT.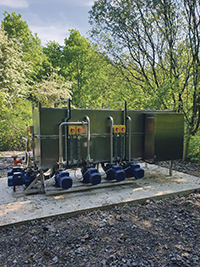 Leachate Solutions offer a new-age approach using cutting-edge technology, the company commit to building a system which is not only highly efficient but also cost effective and environmentally friendly. With older systems beginning to fail and fall out of the acceptable boundary of meeting environmental and industry standards, Leachate Solutions has found the perfect time to capitalise on its research by introducing a modern approach suitable for any company working across the UK in environments such as closed landfills, old coal mines, gasometer tower drainage, and AD BIO systems.
The airless CH4 stripping plant is one of the most cost-effective solutions on the market, offering a reduction in operating costs, maintenance costs and maintenance downtime. The overall cost becomes considerably less over the life span of the product compared to traditional air stripping systems in the market currently. Installed with built in back-ups to ensure the system remains fully operational, the fully automated system is also built to reduce sludge and calcification production. With the increasing pressure from the government to provide more sustainable, eco-friendly solutions, the airless CH4 stripping plant is built with 316 stainless steel components, has minimal plastic components and the steel fabrication has a typical lifespan in respect of 50 years.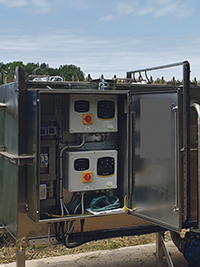 Its highly efficient design brings with it, low energy usage, greatly reduce calcification & sludge production. It has a small carbon footprint due to the system working purely 'on demand' not continuous running, as older systems can do.
All dissolved Methane treatment plants must be able to meet the environmental/regulators requirements to be compliant. The system designed by Leachate Solutions can meet these standards.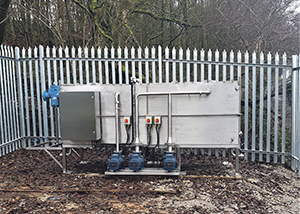 Leachate Solutions provide an in-house design, build and installation package, that can be tailor made to suit any site conditions. It is infinitely scalable to meet potential future requirements, it can be retro fit and incorporated into an existing system.
Designed as a self-contained unit, the airless CH4 stripping plant has the diversity to be permanently installed or set up as a mobile unit. Its slim, compact design takes up little space, with the footprint of the smallest unit available being 3m x 1m.
Leachate Solutions also provide a comprehensive range of services within the water and waste water sectors that help solve problems that its clients may face. Its deep technical skills set provide consultancy, migration, reverse engineering and end to end solutions to the industry. Its flexible and practical approach means it can provide tailored maintenance programs for pre-existing water treatment plans of any type. The company also provide a maintenance consultancy service that helps identify and implement cost savings across an entire sector.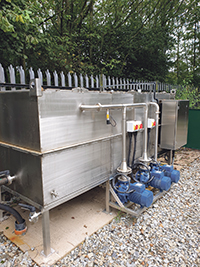 Furthermore, Leachate Solutions also offer technical intervention with problematic sites or site processes, delivering full maintenance packages, pump supply, installation and repair services, and smart monitoring systems that can provide a good system overview and advanced warning of any potential issues.
As an additional complement to its extensive service portfolio, Leachate Solutions produce non-invasive flow metering solutions with a particular emphasis on partially filled pipework and effluent outlets
The company's experience and technical know-how has placed them at the centre of the industry as one of the most trusted and reliable companies within the water and waste water sector. Its high customer retention and feedback echo its sterling reputation amongst competitors and is a remarkable accolade to its recent growth and success.
For more information, see below.
T 01772 816593
enquiries@leachatesolutions.com
www.leachatesolutions.com