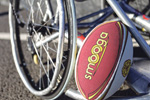 Business and Industry Today is extremely proud to present Smooga Ltd, who supply portable, smart multi-use games areas for playgrounds or playing fields, with our selected School Supplies Company of the Year Award.



Smooga® was founded in 2012 by Keith and Carolyn Place, who wanted to encourage schools to increase their pupils participation in a multitude of outside activities. Based and manufactured locally in Oxfordshire, Smooga's playground areas are made from 70% recycled material and are entirely modular in their design, allowing them to be used for all types of arena, zone or portable wall and to be added to and changed as desired. This means that a Smooga system is a truly flexible asset for any school or organisation. Smooga offer nationwide delivery and give their customers the option to supplement the core product with a range of equally high-qualisports equipment, such as goal and netball posts.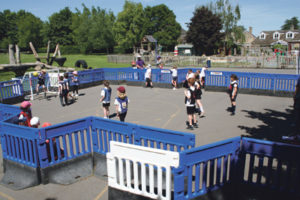 Smooga's specialist products are designed to effectively remove spatial conflict from primary school playgrounds, something often arising from poor use of space. Many schools use painted lines as a barrier between year groups, but this has repeatedly proved insufficient. Instead, Smooga has produced physical barriers so that children can play more freely. Not only does this remove conflict within year groups and between different activities, but it also addresses a number of health and safety concerns that may otherwise restrict activities deemed to be too boisterous.
We spoke to Keith Place, Director and Founder of Smooga, and asked him how he felt about winning this award, to which he responded, "It's great to be recognised for what you love doing, especially when the business is yours and you have put your own blood, sweat, tears (and money) into it. We have managed to scoop a few awards in our short time as a business, which I hope means we are doing something right."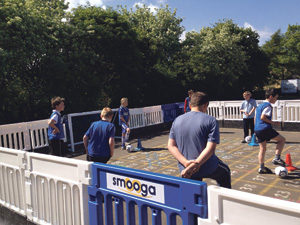 Smooga may already be well renowned as a multi-use games area, but it is also smart! Imagine an arena with four sides, made up of modular, push-fit panels which have a lightweight plastic top section and a heavier base that keeps it firmly on the ground, and you have a Smooga. The system is designed to be robust enough to withstand the pressure of being pushed or fallen against, it has no sharp edges or trip hazards and, what's more, it can be left out all year round. Unlike fixed MUGA systems, it is flexible – you can move it around, set it up where you need it, change its shape or size and use it for many activities. The most common purpose will probably be for football, but it's also ideal for hockey, handball and many other PE games and sports. You don't have to make an arena; some schools use the modular panels as separating walls for zoning.
We also asked Keith about what differentiates the company from other school supply specialists, and he explained, "For one thing we are unique, but apart from that the key benefits for our clients are that when using Smooga panels for all types of zoning they are moveable, robust, totally weatherproof and UV resistant. This means that a school is investing in an asset that will last many years, have many uses and can be added to and adapted as times and needs change. There are few if any types of outdoor play equipment that could claim to be that adaptable and smart."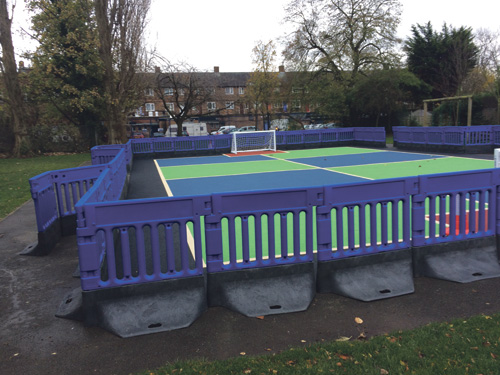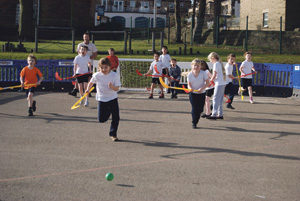 Smooga are unique in the way they have dealt with such playground problems and have developed a strong reputation for their innovative solutions, of which they are justifiably proud. They are the first company to fill the void with a portable solution, helping children to become more active by using space in a dynamic way. Although they do not currently hire out to schools, they may do so if this is perceived to be an attractive option. Being flexible is a key focus for this agile family business, and they are committed to meeting the demands of their customers. Customer service and satisfaction is their ultimate priority.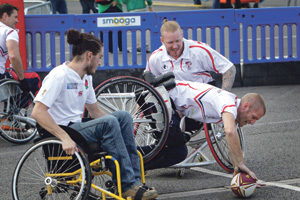 Smooga is able to provide a wide range of playground platforms in multiple sizes for multiple purposes. For instance, their Windrush Smooga is a mid-sized arena measuring 15m x 10m (or your preferred ratio) and is supplied with two 2m x 1.2m Mini Target Goals from Harrods. It is the most popular size amongst schools, and the panel colours are available in forest green and Smooga blue. The entire Smooga range is so effective in reducing the conflict experienced in playgrounds because it provides a safe physical boundary around children and young people playing football and other rumbustious games. There are two happy outcomes: children absolutely love playing inside a Smooga arena, and all children outside it can play more safely and confidently. That's why it's great for playgrounds and sports clubs: it keeps ball games contained and keeps the players focused on their activity.
Going forward, Smooga wish to consolidate their position in primary schools while introducing their wide range of new sports equipment in this market. For the longer term, they will look to develop their Smooga brand with penetration into all schools (Smooga), launch their stand-alone sports equipment business in the early summer (Smooga Sports) and see their recently launched sports clothing range (Smoogakit, see https://smoogakit.co.uk) go from strength to strength.
If you wish to enquire about Smooga, visit the website listed below for more details. Alternatively, you can contact them on the phone number below or send an email via the contact section of the website.
T +44 (0)1865 301917
www.smooga.co.uk