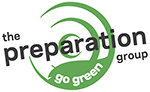 On behalf of our sister publication, Tradex News, Business and Industry Today is proud to announce that The Preparation Group has received the Surface Preparation Company of the Year award.
Established in 1991 and based in Lincoln, The Preparation Group is a specialist in surface preparation, removal, re-texturing, polishing and cleaning, offering cost-effective solutions with the largest and most innovative range of equipment in the UK. The company also manufactures machines and equipment, alongside providing an easy to use range including dust extractors to ensure safe and clean operation.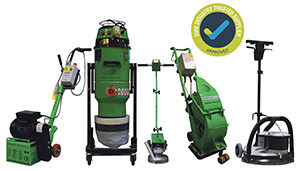 Offering shotblasters, planers, grinders and multi-strippers, The Preparation Group also sells accessories for these machines, with an expert technical team who can provide on the spot guidance in selecting the right solutions for each requirement. The Preparation Group can also offer overnight delivery across the UK and in some cases same day delivery, holding large stock levels to make sure that equipment and tools are always available.

On top of PPC Contracting and its manufacturing operations, The Preparation Group also has a specialist training school, featuring a qualified assessor and a professional experienced team. The facilities at this state of the art training school are the best in the UK, fully equipped with the latest technology, and all course subjects can be tailored to suit individual businesses.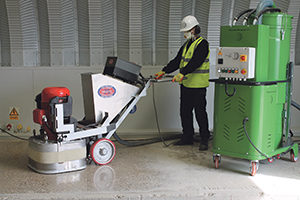 "Our equipment offers a range of solutions for all surface preparation needs. All our equipment is robust, reliable and offers simple operation and maintenance. Many of our competitors' equipment is complicated and presents time consuming strip downs for servicing, which causes lengthy periods of downtime," explained Lesley Collins, Business Development Manager. "We manufacture some of our range here in our workshop based in Lincoln and at present it is increasingly important for many of our customers who want to buy equipment made in the UK. We Fly the Flag!" Lesley continued, "We are delighted to have received the news this morning that we have been accepted by Made in Britain who bring together the British manufacturing community, united with the use of the registered collective mark. The mark is protected and can only be used by members of Made in Britain."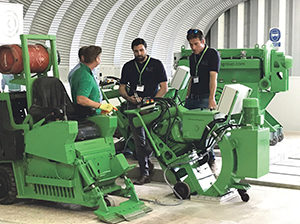 Of course, the last 12 months have been unlike any other, similar to many businesses during the COVID-19 pandemic this year, "It's been probably the most challenging year in the company's 29-year history," said Lesley. "Like all businesses we have had to adapt and review systems and procedures, change the way we work and how we interact with our customers all with the key focus on keeping safe."

"We are proud to say that we have supported key worker organisations continually through the pandemic, supplying essential equipment and accessories and providing our contracting services nationwide, in food processing plants/factories, hospitals, and schools. Throughout the pandemic, our special offers have assisted those companies needing to buy equipment. We have introduced great value bundles to enable them to have the right equipment and accessories they need to provide the services to the key worker establishments when required. Many companies being able to utilise their Government Bounce Back loans to replace or upgrade their equipment."

The pandemic has also not stopped The Preparation Group from continuing to develop its leading portfolio. In response to feedback from the hire industry, the company designed and built its new portable forced action mixer, Little Mixx. With a solid steel construction, manoeuvrability, and high performance mixing process, the Little Mixx is ideal for mixing epoxy resins, cementitious screeds, coatings and cements.
In addition, The Preparation Group has managed to continue its valuable training at its specialist facility. "We've set out the school in such a way to enable us to resume our training courses. We've applied social distancing and now have bookings confirmed up to Christmas," said Lesley.

"We have also introduced annual servicing packages to enable companies to spread the cost of keeping their equipment in good working order. It also gives them the confidence that regular servicing and maintenance will afford them trouble-free continued use, preventing costly downtime. Customer service wise, we have introduced QR codes for H&S and to deliver a great digital customer experience with regard to the operation of equipment, which was an award-winning initiative."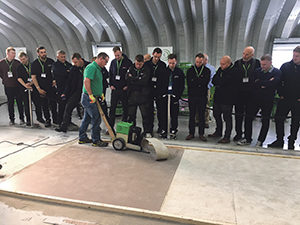 In line with the calls for a 'green recovery' post-COVID, The Preparation Group has also rebranded, focusing on its GO GREEN logo and the initiatives the company has undertaken with regard to its main waste recycling. It has also introduced the recycling of aluminium cans through 'every can counts' and has become a crisp packet recycling drop off point, plus allowing a local Artist the reuse of its scrap metal waste for the creation of sculptures.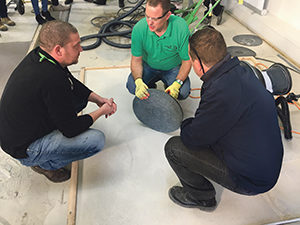 Looking to the future, The Preparation Group will be continuing to invest in its team's operations and training through on-the-job NVQs and CPD training. The company has already proven it can effectively adapt to the most arduous of circumstances, and will be looking at new ways to work while keeping staff and customers safe throughout the COVID-19 pandemic.
"We hope that all of our staff, customers, their friends and families continue to stay safe through these very strange times, and that the country manages to unify in bringing the economy back to where we were and better. Let's fly the flag and buy British, and support those companies who are doing their best to stay afloat!" Lesley concluded.
If you would like to find out more information, head to the website or get in touch using the contact details below.
T +44 (0)1522 561460
hello@ppcgroup.co.uk
www.ppcgroup.co.uk