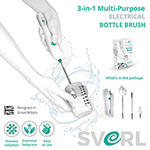 Business and Industry Today is proud to announce that SVERL has been selected as our Health & Hygiene Company of the Month.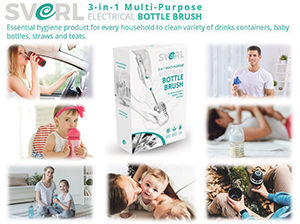 As a self-funded project which began as a concept in January 2017, SVERL has developed a handheld electrical cleaning device for the efficient and convenient cleaning of baby bottles. The 3-in-1 Multi-Purpose Electrical Bottle Brush went through product development and sourcing phases for two years, before being launched in February this year.
The brush is the first of its kind, providing intense cleaning for feeding bottles which is far more efficient than the manual brushes currently on the market. Supplied across the UK, SVERL's bottle brush offers better hygiene for babies and peace of mind for parents. The brush also comes with a straw brush and a teat brush to ensure the highest level of cleanliness.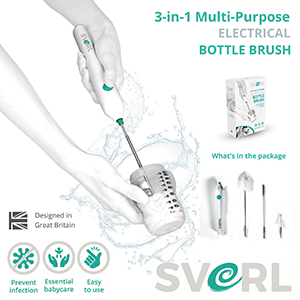 Of course, there is nothing more important than the health and hygiene of your little ones, a fact that inspires SVERL every day to develop innovative solutions. Its high-quality brush is easy-to-use, with a strong grip, durable power button, stainless steel shaft and soft bristles. Intuitive and simple, it has been created through a meticulous and total approach to food preparation and cleaning, something which is essential to all products in the mother and baby market.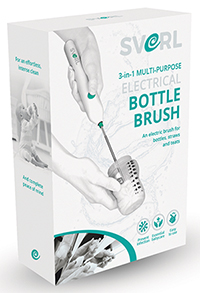 The brushes are implanted with delicate fibres to offer a fast and thorough clean without damaging the bottle or utensil. They can also be cleaned easily by flushing under a tap of running water, and they are dishwasher safe. Furthermore, the stainless steel shaft is specially designed to suit the depth of most beverage containers and bottles, and the handle can be cleaned easily with no nooks or ridges for germs to lie in wait.
The handle is also welded ultrasonically, so each moving part has excellent water protection to prevent water from spilling inside the casing – even the most robust cleaning job will not cause any water damage to the brush, meaning you can ensure it is thoroughly cleaned every time.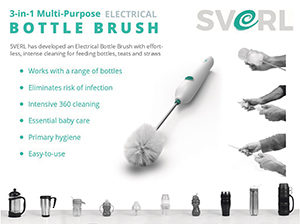 Although the current climate remains uncertain with the challenges of the COVID-19 pandemic, SVERL is hoping to enhance the bottle brush further. "This would be a significant improvement on what we have currently, and we are working on a patentable design enhancement," explained Senthil Rajarathinam. "Apart from this, we are also intending to develop a blender with a unique feature that is not available in the market currently."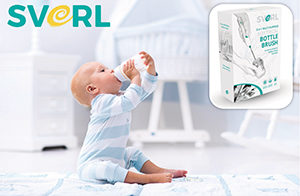 If you would like to find out more information on SVERL and its future developments, head to the website. Here, you can also find a list of instructional videos to help you get the most out of your SVERL brush, with advice on how to use it effectively and maximise its lifespan. You can also purchase your brush from here or from the SVERL shop on Amazon.
Alternatively, get in touch directly using the contact details below to discuss your needs.
T 01895 527104
getintouch@sverl.co.uk
www.sverl.co.uk