Claudio Lugli is a fashion house, based in London, synonymous with creating some of the most vibrant and innovative printed shirt designs on the market.
Made in strictly limited numbers, the exclusive shirt makers are back at it again with a rare and mouthwatering collaboration that is ready to stun the fashion and sporting worlds. Speaking with Marketing Director, Navid Salimian, he hints, "We are finally ready to unveil a series of quality releases that will be deemed as the ultimate fan merchandise for boxing aficionados around the world and especially those of the Gypsy King, Tyson Fury."
Salimian, who is also a member of Team Fury as a stylist and designer, has a relationship with the undefeated WBC and Lineal heavyweight champion of the world spanning 6 plus years.
When asked what fans can expect from the collaboration, Salimian revealed to us that, "9 iconic shirt designs have been created and will be launched as part of Tyson's official Gypsy King collection, with each garment telling a unique story from Tyson's illustrious career thus far. From his unforgettable battles in and out of the ring, to his storied struggles with mental health and now his advocacy for awareness. We have the fans covered."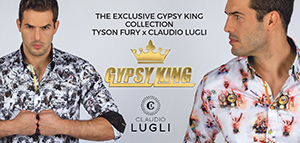 As Tyson Fury's star power progresses to burn brighter and brighter with each high profile win in the squared circle, he is as much identified for his extraordinary boxing abilities as he now is for his audacious sartorial distinction. Sporting colourfully patterned suits and shirts in the build up to his last 7 fights, Tyson and Claudio Lugli have struck a perfect harmony whose creations continues to deliver on showmanship and entertainment while at the same time keeping global audiences guessing what the champion will do or wear next.
The Gypsy King collection is set to be launched in time for Christmas 2020 exclusively on the Claudio Lugli web store (www.claudioluglishirts.com). Expect to see fans in the future donning these must have pieces of merchandise in the arenas as they continue to emulate the number one combat athlete in the world today.
T +44 (0)208 450 1274
enquiry@claudioluglishirts.com
www.claudioluglishirts.com