An exciting new addition to the Master Tool Services range is an effective, affordable vibration management system that targets the niche market of personal protective equipment (PPE) for HAVS (Hand Arm Vibration Syndrome).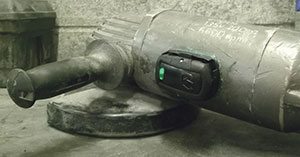 Master has recently been made a major UK distributor for Curotec Team Ltd, the manufacturer of this innovative system.
In the UK alone there are over 300,000 people reported as suffering from HAVS and 2 million at risk. As a result, litigation claims are on the increase. In light of the HSE's Control of Vibration at Work Regulation, released in 2005, the 'Curo' has been developed as a PPE product that not only accurately monitors vibration exposure levels but also actively reduces the risk of contracting HAVS.
The HSE regulations have forced the industry to re-evaluate the threat of over-exposure to vibration in order to keep its employees safe. Today the need for a vibration management system to be put in place in an industry where safety is key has finally filtered down from the blue chip companies to smaller, local businesses. As a result, the 'Curo' fits well into Master's comprehensive range of services, complementing the HAV testing offer with an affordable, effective, easy-to-use vibration management system.
Our technical team is available to discuss your needs, provide support, training and installation free of charge. Should you have any demand for or questions about the Curo, please see our website at: www.master-toolservices.co.uk or contact Master Tool Services via email: sales@master-toolservices.co.uk or by telephone on 01327 703813.