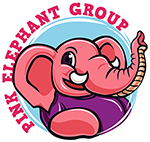 Pink Elephant Group specialises in recycled clothing and the re-use of household textiles including clothing, shoes, accessories such as handbags, bric-a-brac, commercial textiles and other small household items. Caring deeply for the planet, over the years Pink Elephant Group has played a pivotal role in shaping a more sustainable future for the local community by offering innovative solutions that contribute to the re-use of unwanted textiles.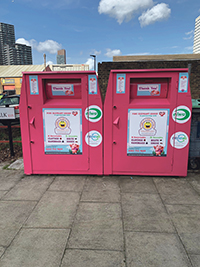 Pink Elephant Group provides services to the general public, local authorities, charitable and commercial organisations through arranging reclaiming re-use schemes in and around the areas from London to Wakefield and other various locations in England. The company is run by a team that has over 16 years of combined experience and a good track record to provide a professional bonded regional collection and re-use service with a single point of contact.
On a mission to make re-use convenient, fashionable and accessible for everyone, the main role of the business is to provide, support and facilitate practical services to individual members of the public as well as organisations and local authorities through arranging various re-use schemes.
Textile banks, schools, nurseries, local convenience shops and house collections are just some of the ways and places that Pink Elephant Group collect from around the UK. Fast fashion produces over 92 million tons of waste every year and unfortunately unless we begin to make dramatic changes, this statistic will continue to rise. Fortunately, Pink Elephant Group is creating new systems that are contributing towards reversing this statistic while boosting a circular economy.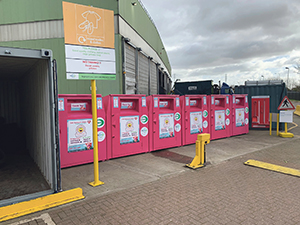 One of these systems is its initial textile collection, a professional and efficient service that welcomes collaborations with local authorities, government agencies, and private businesses for the collection of unwanted textiles. Once the textiles have been sorted, Pink Elephant Group then grade each item for further re-use, and depending on the quality, provide to end users. This innovative solution to re-use is helping create a high-quality market of used and new items in the UK, whilst also benefitting the economy by promoting a circular, sustainable alternative way of life. There are endless recycling possibilities for garments that have reached the end of their useful life. Some examples include industrial wipers, cloths, mattress fillers, insulation, and new fibres.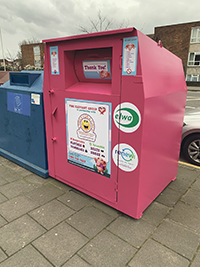 Another notable scheme run by Pink Elephant Group is its textile bank collection scheme. Suitable for local authorities, businesses, shopkeepers, and individuals, the scheme simply requires a pallet sized space that Pink Elephant Group can rent from you on a monthly basis to place a textile/clothing collection bank on. This can be a parking lot or any free space on your premises. With no further investment needed, it is the easiest way to increase your revenue whilst helping out the planet.
In support of the textile bank collection scheme, Pink Elephant Group offers a bespoke service that ensures all its banks are fully serviced and maintained to the requirement of each site. The company has its own group of drivers that weekly empty each bank and record the collection volumes. Banks can be emptied up to three times a week depending on how successful it is, and the team are always on hand to arrive within 24hours of the first call out, and in most situations, can arrive on the same day.
On average Pink Elephant Group collect and sort over 2,000 tonnes of clothing every year. And one of the main services it offers that contributes to this remarkable achievement is its free home collection service. It can be really easy in this day and age to throw away unwanted items and clothing when sorting through a big clear out in your home. The dreaded process of the yearly spring clean can leave you feeling lethargic and unmotivated to then take unwanted items to a recycling bank. Pink Elephant Group understands; therefore, its home collection service has been designed to take this job off your hands. Its door-to-door service is simple and easy to use. Simply go to their website and book a collection slot at a time that suits you – this can either be a one-off collection or reoccurring. But its not just clothing, Pink Elephant Group will also collect bric-a-brac items, small electrical appliances, small items of furniture, toys, and books and ensure that every single item will be recycled and repurposed, saving the planet whilst decluttering your home.
Sustainability is so important and one of the biggest bonuses of reusing textiles is the large benefits for the environment. Many people and businesses unknowingly dump large amounts of unwanted, un-used textiles and items every day, that then gets sent to landfill and left to rot. This process leaches toxins in the groundwater and is incredibly harmful to the planet. By making one small change, we can all contribute towards a greener, more environmentally friendly planet.
Pink Elephant Group offers a partnership that will help make this difference. Recycling is one of the best ways for you to have a positive impact on the world. Apart from reducing waste sent to landfills, preventing pollution, conserving natural resources, conserving energy, and creating jobs which will boost the economy, recycling helps build a cleaner and more efficient planet for years to come. With separate glass, paper and general recycling collections already in place, textiles are still the forgotten produce that people don't believe can be recycled. In attempt to further educate and assist, Pink Elephant Group offers extra and extended services to individual members of the public, local communities, schools, charitable and commercial organisations. If the event is related to textile collection, charitable organisations can rely on Pink Elephant Group to supply any promotional material needed. From leaflets, brochures, collection bags and more, Pink Elephant Group can make preparing for any fundraising event easy.
In the future, Pink Elephant Group is set to focus more on securing new partnerships with local authorities and social organisations. As current signatories of the Textile 2030 programme, Pink Elephant Group is hoping to form closer relationships and make greater impact on the textiles sector. Looking to expand its geographic locations and range of services, the future looks bright.
For more information, see below.
T 0116 326 3262
www.pinkelephantgroup.co.uk