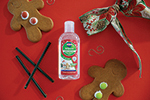 Nilco, created by UK manufacturer Tetrosyl, is a leading cleaning and sanitising brand. Offering high quality products such as Nilbac, Nilglass and Nilpure, Nilco is informed by over 30 years' experience in hygiene product development, making it an established brand that is trusted by professionals.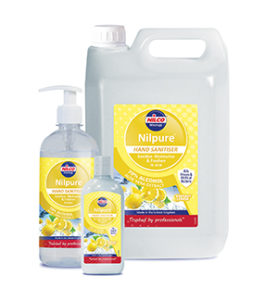 New to the Nilco range is Nilpure, a selection of scented and moisturising hand sanitisers. With the COVID-19 pandemic this year, the need to keep our hands hygienically clean as never been more important, but many hand sanitisers are cheaply made and come with a range of issues.
Bad ingredients, such as poor rubbing alcohol substitutes, are unsuitable and don't conform to safety standards and regulations. They can also be incredibly dangerous with the potential to cause blindness, and can be toxic if ingested or absorbed through the skin.
What's more, it can be difficult to encourage children to use hand sanitisers due to their strong smell of alcohol or odours from low quality ingredients, which can also irritate the skin leaving hands dry, rough and sore.
But, as a proven method to slow the spread of viruses, hand sanitisers are now an essential part of our everyday lives. So, what can be done?
Combining its decades of experience and expertise in hygiene solutions, Nilco has produced a fun range of hand sanitisers which effectively kill 99.9% of bacteria and have pleasant fragrances that will be a delight to both children and adults.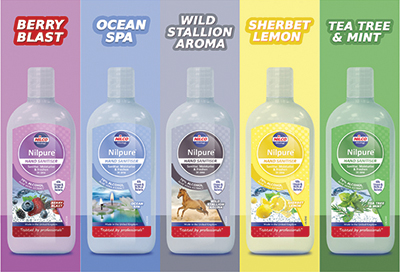 Nilpure hand sanitisers contain Aloe Vera and Glycerine, both of which are natural moisturisers to keep your skin feeling soft and smooth. Aloe Vera extract also contains powerful antioxidants to help stop the growth of certain bacteria, and glycerine helps to hydrate the skin and shed dead skin cells. In addition, Nilpure's range of scents are sure to delight your nose, with Tea Tree & Mint, Sherbet Lemon, Berry Blast, Ocean Spa, and Wild Stallion.
The Nilpure range is a fantastic addition to Nilco's other high quality sanitising products, including dry-touch sanitiser sprays such as 'High-Contact,' 'MaxBlast' and 'Touch Control.' These are all designed to kill bacteria and viruses without the need to wipe surfaces and cross contaminate.
The Nilbac® Dry Touch Sanitiser 'High-Contact' quickly and effortlessly sanitises high contact areas in a few short bursts. With no need to wipe, the formula can be used as often as required and is touch dry in minutes, eliminating any cross contamination from cloths. It can be used throughout the day on all high contact areas such as doors, handles, stair rails, grab handles, buttons, chairs, desks, tables, booths, and counter tops, and works on both hard and soft surfaces.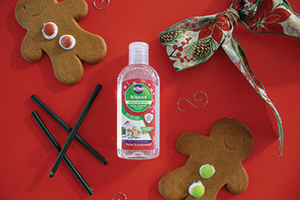 Similarly, the Nilbac® Dry Touch Sanitiser 'Touch Control' is a fast-acting antibacterial spray that sanitises high contact electronical devices, such as keyboards, tills, phones, card machines, tablets, and any other devices which are frequently handled. It can be used as often as required and is touch dry in minutes.
So, if you are looking for quality sanitising products to make sure your workplace is COVID-secure, make sure you take a look at Nilco's extensive range of gels, sprays and stations. Head to the website or get in touch to find out more.
T +44 (0)161 764 5981
sales@nilcouk.com
www.nilcouk.com