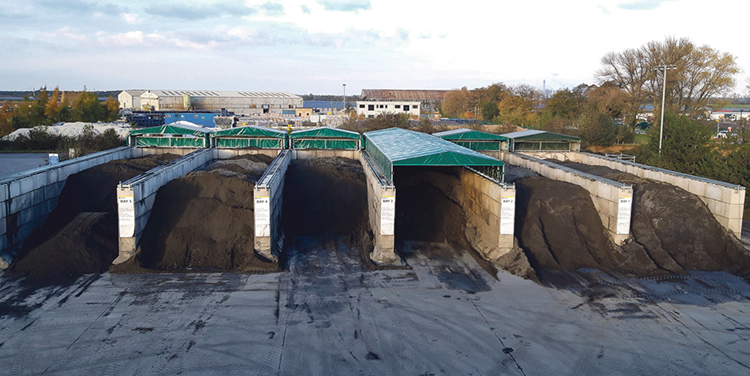 Reducing damaged raw aggregate material during storage is a key to reduce overall wastage.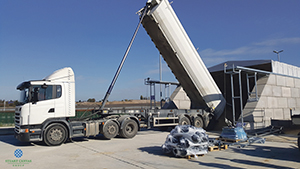 At Stuart Canvas we have designed and manufactured innovative retractable covering solutions for aggregate bays. The tunnel system uses custom-made steel framework tracking which allows for quick deployment and retraction.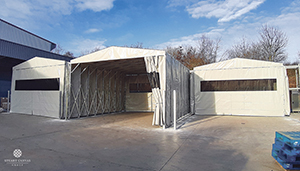 Each tunnel can be operated individually allowing each tunnel to be positioned according to the level of raw material being stored. This design also allows for the tunnels to be partially retracted to allow for the loading and off-loading of raw material. Each tunnel features custom made gutter units that allow for excess water to be directed away from each bay.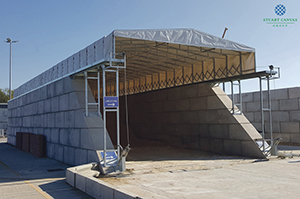 Many of our systems installed at some of the UK's largest concrete, asphalt and brickwork manufacturing plants also feature our new motorised system which was pioneered by Stuart Canvas; this allows the cover to be retracted over the top of each bay quickly and efficiently with a single push of a button. This system creates a watertight seal to protect the material underneath the tunnel. Our studies have found that waste can be reduced by up to 30% over traditional covering systems.
Stuart Canvas has produced retractable tunnels and semi-permanent buildings for the industrial sector for over 20 years. Whether large or small, fixed or retractable, Stuart Canvas can offer a solution to your storage needs. Retractable Tunnels buildings are ideal for additional storage space and are a perfect addition to any workshop or business. Our Tunnels are an ideal solution for creating designated work areas and can be adapted to suit any operation including spray paint booths and quarantine areas.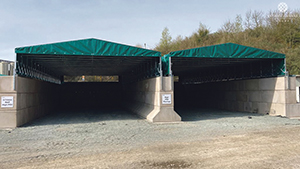 Whether large or small, fixed or retractable, Stuart Canvas can offer a solution to your storage needs and advise on how to create the best additional workspace both internally or externally. Our Tunnels can be produced as mobile or static workshops and can be designed to be dismantled and assembled should they need to be relocated in the future.
We offer a design, supply and installation service and have a dedicated R&D team that can solve any unusual covering issues or requirements you may have. Items can be produced 'free standing' or 'fixed' and can include floor mounted or sunken tracking to aid movement.
Ideal for:
Quarantine Areas
Loading Bay & Dock Tunnels
Aggregate Bay Retractable Covers
Retractable Workshops
Good Inwards/Outwards Areas
Black Out Testing Areas
T 01925 814525
sales@stuartcanvas.co.uk
www.stuartcanvas.co.uk