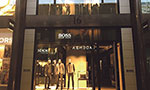 Design flexibility, high-end quality and speed of service were key factors in the decision to use Jack Aluminium for the commercial doors and shopfronts for two branches of fashion brand Hugo Boss.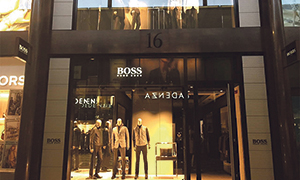 The company recognised that the system would create not only an eye-catching effect but also meet the specific requirements at each branch.
"The two locations were very different, so we needed a systems supplier responsive enough to adapt to requirements," confirms Terry Taggart, Director of TAG Architectural.
"One of the biggest challenges was the size of the doors, which are considerably taller than the norm. We needed to work with a systems supplier who could anticipate, redesign and resolve the issues. We knew from past experience that Jack Aluminium is more than capable of that level of detail."
TAG Architectural was impressed at the speed with which Jack Aluminium met this unusual request. "The material was painted and supplied in under 10 days from design approval to installation, to help achieve the client's tight timescale. You wouldn't get that turnaround from anybody else."
Of particular note was how the versatility of the system provided the client with a four-day turnaround of the internal smoke baffle, which ensured that they could achieve their opening day.
T 024 7646 7449
www.jackaluminium.co.uk