Francis Rossi and Rick Parfitt of Status Quo are delighted to announce another great double act!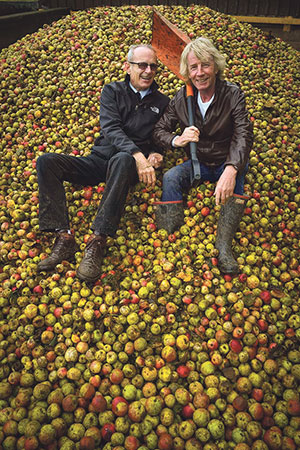 They have teamed up with local Herefordshire cider producer Celtic Marches Beverages Ltd to make 'Down Down' cider. It is being made available, bottled, nationally through the Spar chain from 18th May and has been selected for Wetherspoon's National Cider Festival which runs from Friday 8th July.
The band has been involved in the cider making right from the off, visiting the farm and even spending a day harvesting apples for the cider.
Francis Rossi said, "We know what we like. And we know what our fans like. And I think we can all agree that we like this!" Rick Parfitt added, "It's no secret that over the years the band has enjoyed a drink or three. Finally, we're actually seeing a return on those wasted hours by creating something useful. We love it!"
Contact: Darren Morris
M 07841 116212
darren.morris@celticmarches.com
www.celticmarches.com