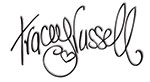 Tracey Russell a Durham based creative entrepreneur can't believe that it was twenty-two years ago that, whilst studying higher education at Cleveland College of Art and Design at Hartlepool that she decided two things. 1-She wanted to have a career in textiles and 2 – she didn't want to work for anyone else. Leaving CCAD with a distinction in Surface Pattern Design started Tracey off on the right path and with such a supportive family behind her she embarked on a career as a designer maker.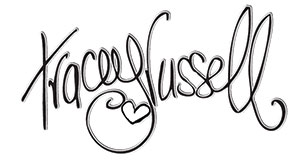 Touring the country every couple of months after spending hours at the sewing machine creating exhibiting at some of the most UK's high-end Craft fairs at places such as Sandringham, Burley House and many more besides. It was going well, however with the course that Tracey previously attended at CCAD now gaining the accreditation of a degree it was too tempting for Tracey not to go back to college for further studies to achieve a Degree in International Textiles. Cutting back on some the exhibitions, she not only did this but also gave birth to her first child only 4 days after launching her end of year degree show!
This was a time when choices had to be made. Tracey was selling her work, but the irregularity of the income was no way to bring up a small child. How could she do what she loves and provide too? Her father then gave her the best bit of business advise she could ever receive, 'it's about the end product – 1 person will buy 1 thing for £400 but 400 people might buy something for £1'. So with that in mind Tracey approached the new gift shop that had just opened in the Metro Centre, 'Acorns & Angels' with a small range of handmade greetings cards she had also been working on, they welcomed them with open arms. Tracey Russell Greetings Cards was born, the rest they say is history!
Well – let's mention the addition of 2 more fabulous Children, Molly (2000) and Alice (2002). 2002 also saw Tracey achieving a North East Business Woman of the Year Winner award.
The business soon grew from 1 agent to 12 covering all corners of the UK and at its height also had representation in America, US, Australia and New Zealand. With the addition of a business partner covering areas of the business other than creativity, the company grew very quickly from a couple of members of staff in her parent's spare room to a unit on an industrial estate, expanding at times to 10 staff plus out workers when production was at its busiest.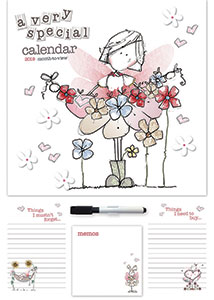 Harrods, John Lewis, Fenwick have all carried Tracey's stock at various times throughout her career and the company has peaked and troughed over the years depending on trends and climate of the gift and greeting card industry. It hasn't always been easy but Tracey throughout the good and the bad has always taken great Pride in her work and enjoyed seeing the reception on peoples face when they pick up to buy for someone special one of her Tracey's handmade greetings cards.
Her artwork also being licensed through companies such as Widdop and Co., Penny Kennedy, Carousel Calendars and Best Kept Secrets to name a few.
Where is the company today, 22 years on? After almost 2 decades working with her business partner, April of this year, saw the business partner leave to pursue a different career path. Not wanting to replace the business partner Tracey is more determined than ever to continue to grow the business in an industry that if forever changing and becoming more challenging as new artists entre the market, advances in print technology make it easier for new starts up and of course we all know the situation the high street is in!
Since July, Tracey has launched 4 new handmade card collections that have been received incredibly well. The Home & Gift being a sell out for her. So going forward, With more new collections in the pipe line, a digital marketing apprentice on board, (which also happens to be her daughter Molly), 4 excellent in-house staff and continued support from her family, she strongly believes that with the emphasis on marketing being through social media, the use of printing techniques other than digital, the expansion into gift and of course a constant, creative imagination Tracey's hopes her company will continue to grow for many more years to come.
T 0191 3732497