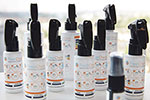 It goes without saying that food manufacturers and processors need to ensure their products are safe and free from contamination.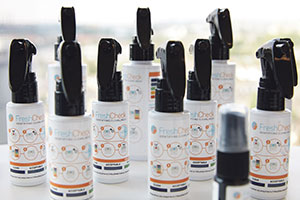 In order to do this, regular monitoring needs to be carried out to check for food spoilage microorganisms and food poisoning pathogens.
Christeyns Food Hygiene is now able to bring to market a new innovative, cost effective and time saving visual option for surface testing. It was recently released in the UK and Europe and is already in use with many food manufacturing companies.
FreshCheck, a patented formulation, is a unique hygiene verification test that reveals the presence of viable bacterial populations and organic soiling on food contact and preparation surfaces in a matter of seconds via a simple visual colour-change method.
The opportunities for FreshCheck are almost endless to reduce risks and help producers meet hygiene specifications. The products use is very flexible from positive release of equipment to route cause analysis of bacterial contamination and the products simplicity decrease hassle when carrying out hygiene audits.
Currently food hygiene testing is done using ATP monitoring or the more traditional TVC assessment.
ATP is the universal energy carrier found in all living organisms, the food we eat, our own body and microorganisms. This form of testing often uses a break-bulb swab to provide a fast and direct measurement of cleaning efficiency, primarily by the measurement of product residues. Corrective action can be implemented immediately but the test detects ATP from all sources and cannot differentiate. There are also inefficiencies in picking up low levels of energy, for example in cells that may later recover and grow, after a cleaning and disinfection operation has been completed. ATP also requires an investment in expensive fragile equipment.
The second option, a TVC assessment, refers to a Total Viable Count, which gives a quantitative estimate of the concentration of microorganisms such as bacteria, yeast or mould spores in a sample. TVC does reveal the presence of all viable bacterial populations but requires laboratory facilities to test the outcomes and thus a time-delay to obtain the results and can be expensive.
Tested by Campden BRI, FreshCheck has proven to be effective at revealing the presence of low levels of both pathogenic and spoilage bacteria including Listeria monocytogenes and Salmonella typhimurium. It only takes seconds to provide a qualitative presence (or absence) of contamination.
Peter Littleton, Technical Director at Christeyns Food Hygiene, comments, "This is a very exciting product to work with – the new technology has applications in food service and retail as well as processing and manufacturing. We are also working in partnership to develop other ways in which FreshCheck could be used."
The product is applied onto a dry surface and the original blue colour of the liquid will change if any contaminants are on the surface. This can be measured against the colour-test guide on the product packaging. The result is nearly immediate and thorough, as proven in extensive testing carried out by Campden BRI. Specifically, testing found that L. Monocytogenes at a very low number of organisms per 25cm2 showed up quite clearly with FreshCheck as did Salmonella at the same level of contamination.
Ichiban UK, a Suffolk based leading producer of Sushi to the UK retail market, is an early adopter of new technology that benefits the quality and safety of their products.
Jon Day, Ichiban Site Manager, commented, "FreshCheck is a novel, innovative and user-friendly way for hygiene professionals to instantly verify the effectiveness of the cleaning regime as well as being an ideal tool for training hygiene operatives in the areas they need to focus on. It is a very powerful addition to the arsenal of a Hygiene Manager."
With its ease of use, rapid qualitative identification of bacterial populations and low cost per test, FreshCheck offers a new alternative in the management and control of bacterial food safety. It is available from sole distributor Christeyns Food Hygiene.
www.christeynsfoodhygiene.co.uk
uk_foodinfo@christeyns.com
www.ichiban.co.uk