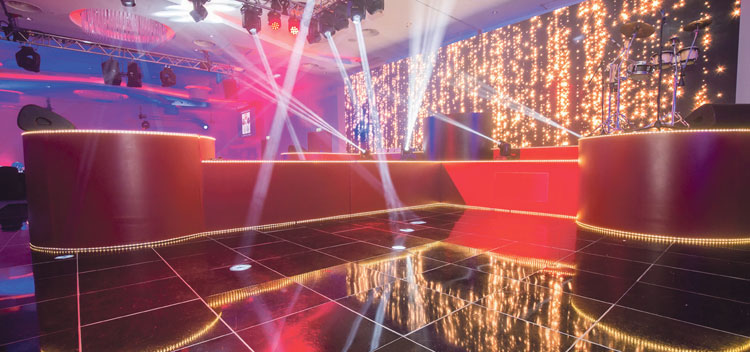 Business and Industry Today is extremely proud to present MTS Events as its selected Event Organiser of the Month.
MTS is an event production company that designs and builds bespoke events. With an outstanding knowledge of the industry and ability to create unique private and corporate events, the company brings together all your technical requirements for a smooth and successful occasion.
With a long history as a family owned business, MTS Events was established in 1984 as Chris White MTS by John Barker. After a refresh of the brand and incorporation in October 2012, Chris White MTS became MTS Events & Hire Ltd and is owned and run by its current directors Craig and Cheryl, John's son and daughter. Over the years it has developed into a well-established company renowned for delivering a personal service with impeccable attention to detail.
"We offer a tailored service that cannot be rivalled," commented Cheryl Barker of MTS Events. "We take our client's ideas or brief for an event and design practical and creative solutions to realise them – then we make it happen!
"The event industry is so diverse and likewise we get to work on a very diverse range of events: Conferences, Charity evenings and Award dinners, trade exhibitions & product launches, Corporate Christmas & New year parties, Weddings, Birthdays, Bar Mitzvahs and many other private parties."
MTS' services encompass many areas including: Sound, lighting, stage & set design, draping and event management, everything you need for a successful event. Armed with a team of skilled technicians and in-house equipment, MTS bring together all your requirements for efficiency, peace of mind and ultimately a thriving, enjoyable event.
"We understand that there can never be a 'one solution fits all' approach. However small the event there will normally need to be some customisation involved to ensure the final result is the best it can be to achieve or exceed our clients expectations, fulfil the design brief, fit perfectly within the event space and maintain a cost-effective budget," explained Cheryl.
"We work alongside or on behalf of specialist event planning companies, event teams within corporate organisations, schools and private clients. We recognise that each type of client requires a different approach. We can work alongside event planners from inception to completion of an event coming in initially for technical advice, guidance and design ideas or work to realise a design brief when an event has already been worked out both technically and creatively."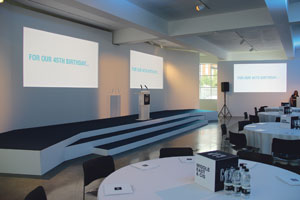 When asked to discuss the company's plans for the future, Cheryl concluded, "We are proud of the excellent working relationships we have developed over the years. The last year has seen us being rewarded opportunities to work as a preferred supplier at some exciting event spaces. We are keen to develop this in the future and forge new alliances with other venues and suppliers to strengthen our position in the market and allow us to offer a better service to our clients."
MTS Events attends many trade shows throughout the year and recently attended International Confex at Olympia for the first time. "The Show was a good opportunity for our team to meet other industry professionals. The two days in February were consistently busy and we took lots of new enquires and leads.
"We've had plenty of involvement in the past building stands for other companies but this was the first exhibition stand we've designed and built for ourselves. It was a lot of hard work but very rewarding – hopefully we can build on its success for something better in 2016!"
T +44 (0)1923 225227
info@mts-events.co.uk
www.mts-events.co.uk