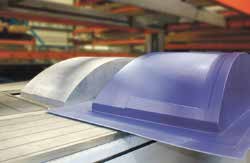 DMS Plastics was first established in 1982 by Gary Smith and the plastics company has since gone from strength to strength, fast becoming one of the leading companies of its kind. It's now regarded as one of the best organisations to develop and manufacture a wide range of products, whilst also supplying services to an ever-expanding worldwide client base.
The company is based in Ludlow, Shropshire, and offers services in plastics, telecommunications, manufacturing and the automotive industry. They cater to many specialist segments, including the aerospace, rail and aviation sectors. They provide protection equipment for the police and prison services, with clients such as the Metropolitan Police, the PSNI and aircraft interior companies. DMS have many plastic forming capabilities, with a highly skilled, respected and experienced workforce who continually strive to achieve the best quality results. Their services include vacuum forming/thermoforming, press and twin sheet moulding, drape moulding, line bending, tooling, CNC machining and finishing.
DMS pride themselves on providing an exemplary service from start to finish, maintaining high standards in every aspect of their work, from the design to the production. Existing clients remain loyal to the business because they are entirely satisfied with the end result, their brief being met exactly on time and within budget.
Paul Draper, Operations Manager at DMS, reinforced that the work they do is second to none, "Our company stands out because we offer added value and excellence to all of our customers. The DMS Plastics ethic is all about quality, cost and delivery – we provide the complete package to meet the needs of our clients."
DMS have an unrivalled knowledge of a wide range of materials, due to their extensive research and development work carried out alongside inhouse testing procedures and production facilities. These materials include ABS, Polycarbonate, Acrylic, Aerform, Boltaron, Styrene and Polypropylene (to name a few). They meticulously design and construct tools, jigs and fixtures in house in order to meet the diversity of the contracts they receive.
The skilled designers and engineers employed at the plastics company produce tooling for a wide variety of projects, from a solo prototype to a continuous assembly line, whilst working alongside their customers during the development stage to ensure needs are met accordingly.
Paul has hopes for continued progression in 2015, "In regards to the future, our main priority is to continue offering our high standards of customer service, building upon the solid reputation we've built. Our aim is to push the scorpion range into the overseas marketplace and break into the exportation market."
DMS often attends military and police trade shows to showcase its products and services. It will soon be exhibiting at the Security and Policing Event in March 2015.
If you wish to find out more about the company, then don't hesitate to get in touch with DMS using the contact details supplied below.
T 01584 874679