Business and Industry Today is proud to announce that ElectroCraft has been chosen to receive our Motion Control Company of the Year award, for their continued innovation and steadfast commitment to meeting the individual needs of their worldwide OEM Customers.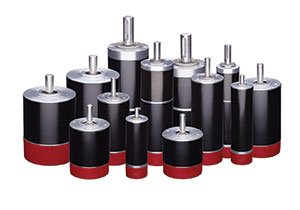 With a mission to be the most trusted and valued specialised motion system partner, ElectroCraft is helping customers who are dissatisfied with having to design around inflexible, off-the-shelf products. Thanks to their expert technical knowledge and customisable product families, ElectroCraft can offer a premium design experience, which results in motor and motion systems that deliver superior reliability and performance at the lowest possible cost.
With industry leading expertise, ElectroCraft strives to understand the real challenges their customers face, incorporating this knowledge into current and future product designs. Indeed, ElectroCraft is much more than a motor and motion control manufacturer; it is a consultant, partner, and highly adept problem solver. Empowering customers to develop products without the restraints or limitations created by other suppliers, ElectroCraft offers the freedom customers need to create innovative solutions, providing a comprehensive and unbeatable customer experience.
"It has been an interesting 12 months," said Scott Rohlfs, Director of Product Marketing. "We've been focusing on our purpose, why we do what we do, which has been highly beneficial for our internal growth as well as our customer's success. We're continuing to move in an exciting direction and we're looking forward to what 2020 will bring. We've accelerated our product development and innovation, and we're continuing to expand our product lines across the board. However, we have a common thread in our expansion of Brushless DC Motors, Drive Products, and Mobility Solutions; the developments in these areas are improving motion control options for our customers."
One of ElectroCraft's recent developments is the expansion of its RPX and LRPX BLDC motors. ElectroCraft's Brushless DC Motors (BLDC) are designed for high performance, ideal for applications where high torque and efficiency is required. Thanks to our innovative motor design and integrated planetary gearbox, these brushless motors and gear motors are suitable for a variety of mission critical medical, military, transportation, industrial automation and other applications that traditional BLDC motors and gearboxes cannot accommodate.
Now, ElectroCraft can offer smaller (16mm) but proportionally powerful models of the RPX motors and LRPX gear motors. The RapidPower™ Xtreme (RPX) BLDC Motors are compact and highly controllable motors with class-leading torque per frame size performance, remaining highly energy efficient and ideal for embedded applications.
"We're staying nimble and versatile in everything we do," Scott elaborated. "Our development and manufacturing processes are adaptive, and we are continuing to invest in new and innovative technology to consistently meet application needs."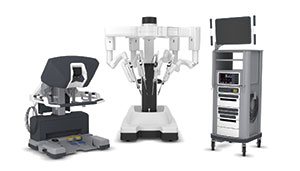 Mobility and Mobile Platform Traction Systems
Not just a motor and drive component supplier, ElectroCraft is focused on providing complete market-based solutions. For example, ElectroCraft is undoubtedly at the forefront of innovation in the mobility market, staying ahead in this quickly evolving environment. As the mobile motion market continues to expand, ElectroCraft continues to pioneer motion control for mobile platform traction systems across a range of applications, from surgical robots, mobility chairs and patient transport systems in the medical market to automated guided vehicles and autonomous mobile robots in the industrial and commercial sectors.
In the 1950s, the first powered mobility chairs were heavy and cumbersome, with a short battery life and, up until the 1980s, costing as much as a car. After aviation and industrial automation introduced integrated gearmotor technology into the mobility market, it began to evolve rapidly.
With the ability to drive the back wheels of the chair directly, the new right-angled gearmotors, like ElectroCraft's MobilePower™ series, eliminated the inefficiency and frequent maintenance of chairs' original belt and chain mechanisms. Simultaneously, advances in drive technology improved control and responsiveness for the user, while batteries became lighter and more efficient.
Up until recently, modern mobility designs were using permanent magnet DC motors (PMDCs) almost exclusively. Now, BLDC motors, which have several advantages over PMDC motors in mobile power applications, are rising in popularity. What's more, by truly integrating the motor with the gearbox, more motor options can be utilised for more application flexibility. This integrated mobility platform is continuing to evolve, with custom mobility motor manufacturers, such as ElectroCraft, developing the next generation of mobile power platforms.
ElectroCraft's motion control team is world leading for the design and manufacture of customised gearmotors and wheel-drive solutions. Renowned for their smooth and controlled power delivery with high starting torque, they provide outstanding rough-terrain and curb-climbing performance and are available in a wide range of motor and gearing options, from configurable to fully customisable.
The company's MobilePower™ product family has over one million gearmotors in service worldwide. Recently, ElectroCraft expanded the MobilePower™ offering with the MPW (MobilePower Wheel-Drive) series. The MPW52 and MPW86 feature a high torque density brushless DC motor with an integrated single-stage planetary gearbox and wheel drive assembly. This is an application specific extension to the MobilePower™ range, adding to the breadth of the gearmotor line to include industrial grade traction systems for automated guided vehicles (AGV) and a wide range of autonomous mobile robots (AMR).
In keeping with ElectroCraft's leading innovative developments, this is one of the most powerful compact wheel drives ever created, building not only on the company's gearmotor knowledge base, but also leveraging the high-torque-density that ElectroCraft provides with its RPX Series and other Brushless DC motor products.
"We will be continuing to expand the MPW family later in the year and in 2020," said Rob Kerber, Vice President of Global Sales, Marketing and Product Development. "We are excited to work in this area. Our technology can help improve quality of life, and it is great to see what we have done and are continuing to do going forward."
Motor Drives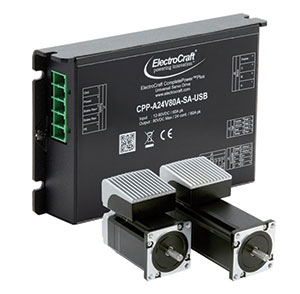 ElectroCraft has also been developing its CompletePower™ Plus Family of DC Motor Drives, for the Universal and PRO series. Combined with ElectroCraft CompleteArchitect™ configuration software, the CompletePower™ Plus Universal Drive takes performance, efficiency and flexibility to the next level, using state-of-the-art digital drive technology combined with an intuitive and highly configurable user interface. Now, there are four standard capacities in the model line-up, supporting 12 to 80 VDC motor windings and providing up to 24A continuous and 60A peak output current, while customised versions are also offered to meet large volume OEM requirements.
What's more, for applications requiring more advanced control capabilities, the PRO Series drives incorporate a fully programmable motion controller with built-in networking and are available in a variety of hardware configurations. This includes standalone, PCB mount or as part of an integrated motor drive solution.
"We are very proud of our focus" Rob explained. "We are on the cutting edge of the solutions we offer, constantly innovating and developing what we are doing to meet our customer's needs." Indeed, ElectroCraft has continued to innovate every year and shows no sign of changing this admirable work ethic; their custom solutions and focused design experience are at the core of everything the company does, ensuring ElectroCraft remains responsive to the most pertinent issues their customers face.
If you would like to find out more information on ElectroCraft's full range of products, head to the website or get in touch using the contact details below.
T +1 (844) 338 8114
F +1 (603) 742 9080
sales@electrocraft.com
www.electrocraft.com