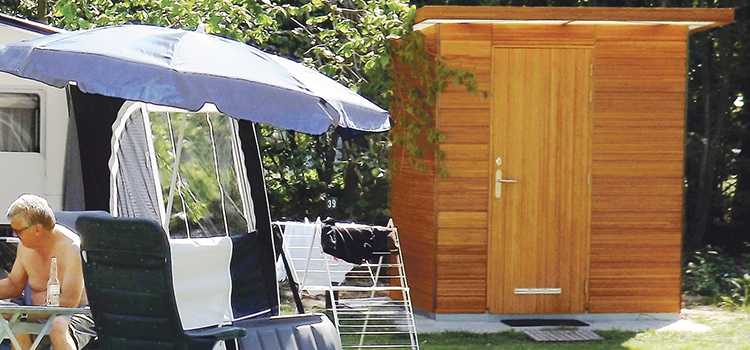 Here at Business and Industry Today we feel privileged to feature CampPlus as our coveted Campsite Facility Specialist of the Month.

The business, which is based in Heinenoord, in the polders just under Rotterdam, specialises in the manufacture of the innovative en-suite campsite pod; a compact plug-and-play shower and toilet facility that is easily installed at camping grounds, holiday parks and glamping pitches.
The unique concept was explored by founder Erik Verwaaijen, who was tasked with the challenge of designing a campsite in Cornwall and was rather taken with the thought of a convenient and compact en-suite pod to be positioned in close proximity to individual camping spots. To bring his vision to life he made the informed decision to move to Holland in 2013, where he partnered up with co-owner Wietse Tjoelker to set up CampPlus.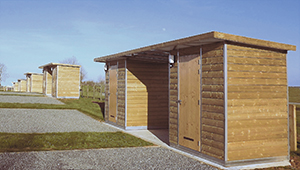 Erik, who dedicated his time and efforts to find a suitable solution, was uninspired by the current offering in the marketplace, as he divulged. "I found a few companies in Holland that produced en-suite units for campsites but I was not at all impressed by their products. Most were unattractive, sterile polyester sheds that were difficult to clean & so highly priced that they would never pay for themselves.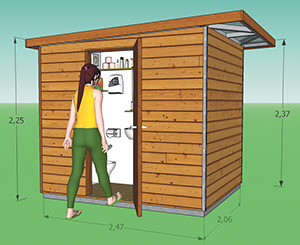 "I subsequently decided to design a new unit that was affordable, aesthetically pleasing, well-proportioned and clad in natural materials. After many a prototype, a lot of testing and the discarding of materials, we arrived at a design that fits all of the requirements. Expertly engineered inside and out, our unit has a rugged build that ensures a lifetime of at least 10 years with a payback period of 3-4 years at the most."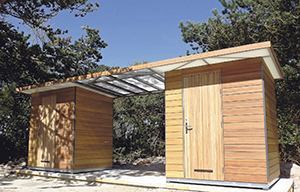 The original idea stemmed from Erik's planning and development stage, which involved listing the best – and worst – parts about the campsites he had visited previously. He found that one of the main problem areas was the frustrating trip to the shared toilet and shower block, and realised that a large quantity of campers would likely appreciate the placement of their very own small but comfortable outhouse.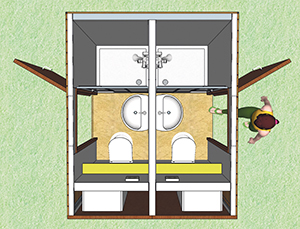 A logical step was to transform the simple toilet amenity into a comprehensive en-suite with shower and washbasin, integrating the necessary water, sewage and electric systems for absolute customer satisfaction. 2015 saw the installation of the company's first 23 units, and twelve months later the turnover more than doubled with an impressive 47 units. Notable commissions included projects at Sand le Mere Holiday Village in Yorkshire and Trevella Holiday Park in Cornwall.
"Our aim is to make en-suite pitches a regular option on campsites," Erik concluded. "The long term goal is to make this a standard facility – nowadays you expect a hotel room to have a bathroom, and we want to achieve the same at campsite pitches. To keep the product affordable we make it simple: we provide customers with their own private shower room right next to their tent or caravan that incorporates daylight as well as lots of shelf space and hooks."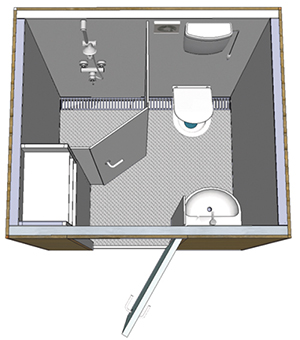 Quotes of campsite owners who already installed a number of en-suite campsite pods confirm the vision of CampPlus. Some quotes are:
"We have been really pleased with the customer reaction and forward bookings have been very impressive. We will be installing further en-suite pods on our other parks."
"We installed five units last year, next year we plan to order another 20."
"The en-suite campsite pods increased our occupancy rate. A growing number of guests will only make a booking if en-suite campsite pods are available. Otherwise they will go elsewhere."
"We had to adjust Google AdWords on the search term en-suite campsite pods. The number of hits was costing us a fortune."
"Cleaning a unit takes only 5 minutes at change over. Guests felt responsible for their pod and left the unit in a very clean state."
"Our newest product is the Duo unit, which sits between (and serves) two pitches. A prototype has currently been built, and we are looking forward to touring it on a trailer through the UK this summer. We experience a lot of interest in the DUO. Based on the prototype we have already sold 10 units and a number of campsites have placed pre-orders."
It will also be showing at 2 trade shows in the UK:
T ++31 186 769 054
info@campplus.co.uk
www.campplus.co.uk