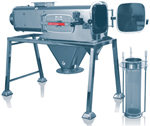 For more than 50 years, Gericke has provided centrifugal sifting solutions to the solids and powder handling industry, gaining unrivalled experience handling a multitude of materials in many applications and industries including; food, chemical, pet food, beverages, dairy processing; infant formula and pharmaceutical.


Our wealth of knowledge supplying complete turnkey systems ensures that Gericke can optimise the interface between the sifter and other essential process components.
Building on our proven technology Gericke has introduced a complete NEW range of centrifugal sifters with updated design and operational features necessary to satisfy the demands of today's processing industries especially with regard to sieving efficiency, higher yields, improved hygiene, ease of maintenance and compliance with the latest
industry standards.
The Gericke Mk III centrifugal sifter provides three modules incorporating twelve standard configurations which can be optimised to suit almost any application requirement.
The Baseline model provides a cost-effective solution for general applications whilst the Multi-purpose unit includes additional features such as hinged doors to improve access for cleaning and maintenance.
The Hypergienic model is designed to meet the most stringent of requirements for cleaning and hygiene and features a cantilevered shaft assembly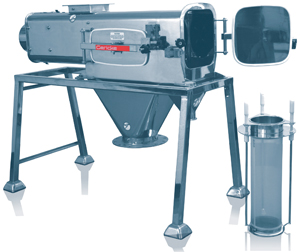 with bearings only at the drive end, three hinged interlocked doors, quick release fully welded paddle assembly and integral discharge hoppers.
ATEX Directive
Gericke centrifugal sifters are widely used throughout the food, plastics, pet food and pharmaceutical industries and within Building chemicals processing, these process requirements are increasingly subject to ATEX categorisation.
Gericke Mk III Sifters are designed and certified for ATEX zone 21 external and zone 20 internal for use with dusts with minimum ignition energy (MIE) of greater than 3mJ. The full range of screens can be used within the ATEX certification taking into account such risks as propagating brush discharge.
Advantages of Gericke Centrifugal Sifters:
High capacity/high efficiency
Robust and reliable construction
360 degree in-situ rotating screen assembly inspection
Hypergienic construction
Cantilevered design
Quick-change over of screens without the need for special tooling
Ease of maintenance
Pressure rated design for in-line applications
Dust tight construction
No vibration – no flexible connections on the inlet or outlet
Applications

Gericke sifters are utilised to guarantee product quality within the processing of powdery products, granules, or fibre, providing high levels of performance and optimum separation with a minimal footprint.
Particle separation – typically within the range of 40μ to 5mm
Safety sifting – removal of foreign parts prior to production or filling processes
Conditioning – separate and condition the bulk density prior to production or packing
The high throughput capability of sifters justifies them as the effective choice for bulk sifting requirements prior the filling of silos from tankers.
Sifting capacities from; 2-3kg/hr guaranteeing product quality of high value small batch operations, to 120te/hr minimising the time-frame for filling of road tankers, a preferred method utilised throughout the milling industry and the production and processing of sugar and starch.
Screen Types
A critical element of any successful sifter application is the correct selection of sieve hose for optimum performance. Gericke offers a comprehensive range of screen sizes and colours which are available ex-stock, including: HD Nylon, Anti-static, Polypropylene, Perforated plate and Wedge Wire.
T +44 (0)161 344 1140
www.gericke.net