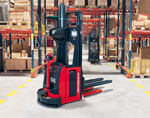 Have you seen Automated Guided Vehicles and thought "If only…"? Do you love what they do but always thought "I can't justify the investment"?
Well, not any more. EK Automation's newest SMART MOVE transport robots open up entirely new possibilities for automating intralogistics processes. High cost manual transport tasks can now be completed by an efficient and cost-effective SMART MOVE transport robot ensuring your investment pays for itself very quickly.
These robots are equipped with market leading laser navigation so you don't need any in-floor installation. Large logistics areas can be covered with ease and expansion is straightforward.
SMART MOVE uses industry proven components to ensure long life operation in the busiest of environments and meets all the safety requirements for personnel protection. Safety laser scanners at the front and rear are part of the safety package as well as side safety photo cells and E-Stop buttons, accessible from all sides.
So, whether your industry is food, automotive, plastics, warehousing or whatever else, SMART MOVE will turn "If only…" and "I can't justify…" into reality for you.
And the price? Talk to us about the finance options – it will be worth your while.
For more information, contact us at: info.uk@ek-automation.com or visit us on stand at Intralogistex 2017 on Wednesday 15th and Thursday 16th March 2017 at the Ericsson Exhibition Hall, Ricoh Arena, Coventry, UK.
T +44 (0)1256 880228
info.uk@ek-automation.com
www.ek-automation.com