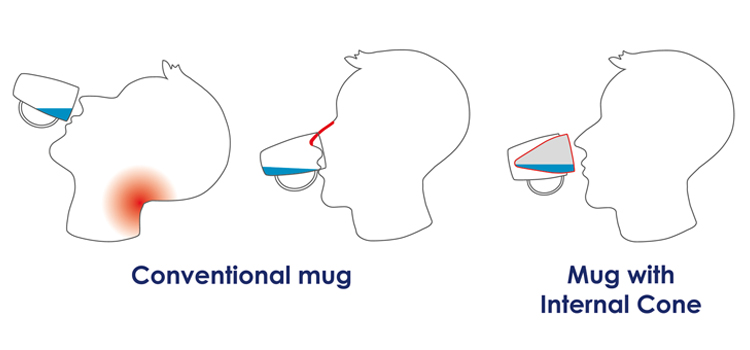 Business and Industry Today is extremely proud to present Ornamin Ltd as its selected Mobility Tableware Manufacturers of the Month.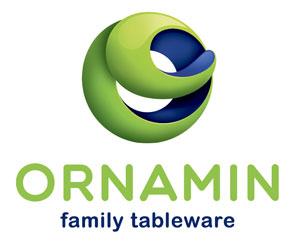 It is Ornamin's aim to ensure that every member or the family – young or old, tall or small, disability or no disability, can all be included in those all-important family meal times. This is why they have developed a whole range of functional tableware to compensate for all different types of disabilities and facilitate independent eating and drinking.
From mugs, cups, bowls and dishes to eating & drinking aids and children's equipment, the advanced range enables those with difficulties to independently eat and drink without feeling embarrassed or self-conscious. All tableware is designed and manufactured to the highest standards at the headquarters in Germany where Ornamin's sister company, Ornamin-Kunststoffwerke is located.
"The key issue when it comes to developing tableware for people with physical limitations is to encourage them to eat and drink independently," commented Managing Director, Marleen Osthoff. "After all, shaky hands, limited movement in the neck or the lack of a functional second hand make it hard for people to eat and drink on their own. Having to be fed or spilling on the table or yourself can have a negative effect on self-esteem and even lead to refusal to eat. Our functions compensate for just these types of disability and facilitate independent eating and drinking.
"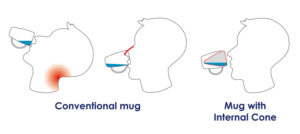 The features allow users to hold products securely on the table, preventing them from slipping out of hands and allowing people with just one hand to eat on their own with ease. And the best benefit yet: all tricks are hidden in the design so they are hardly noticeable at first glance, which is a very important point when it comes to dignity. Our competitors' products don't pay attention to the feelings of the affected person, which can also lead to refusal to eat."
A notable product in the advanced range is the Ornamin Mug with Internal Cone. Available in a range of colours, the mug makes drinking easy for those with limited movement in the neck and arms with its cone-shaped interior. Its thermal function keeps drinks warm or cold as required and the spouted lid prevents splashes and spills. It is made with break-resistant quality plastic and is dishwasher and microwave safe.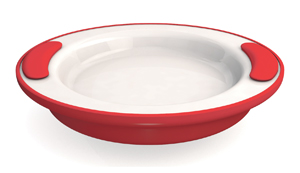 Another is the Ornamin Keep Warm Dish which is designed to keep food warm for longer. Its large openings make it easy to fill with hot or cold water or crushed ice and the non-slip grip pads ensure a safe hold and conceal the openings for the thermal function. A non-slip ring under the base ensures that nothing slides around while eating. In addition, the Ornamin Plate with Sloped Base has been created for easier spooning due to its sloped base, discreet protruding lip and non-slip ring on the bottom.
"Ornamin wants to bring everyone to the table and make them feel comfortable," Marleen concluded. "Our main customers are care and nursing homes as well as the end customer, which can be everyone including daughters, mothers, grandsons, husbands or friends.
"As a medium-sized, independent family business we know the importance of family and its members. Our attractively designed eating and drinking aids – from non-slip bread and butter boards to thermal mugs – enable young and old to independently take part in family life."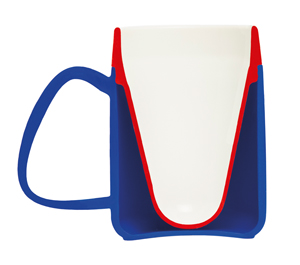 Ornamin Ltd recently exhibited at last year's Health Plus Care Show, Trade Days and OT Show 2016 where they received a fantastic response from visitors who stated that the family tableware is a positive product development in this sector with no comparable competitor. This year the company will be appearing at Trade Days and OT Show 2017.
To find out more, contact Ornamin on:
T +44 (0)121 717 4724
team@ornamin.co.uk
www.ornamin.co.uk