Business and Industry Today is extremely proud to present Crystal Clean Service as its selected Commercial Cleaning Company of the Month.
Dedicated to ensuring business environments are as clean, safe and healthy as possible, Crystal Clean Service is an expert in commercial cleaning and hygiene services. Specialising in industrial, office and business centre cleaning, the company strives to leave your space gleaming and dirt free.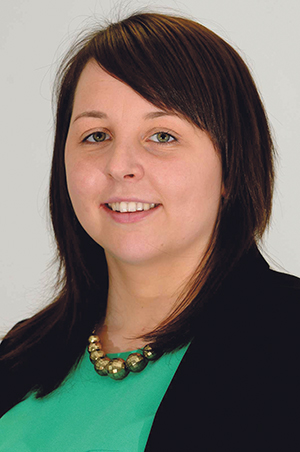 Established in 2008, Crystal Clean was set up by Hayley Gillbard. At just 18 years of age Hayley began work as a sole trader offering cleaning services to a few small clients. As she began to witness a substantial amount of interest with many satisfied clients, the business grew significantly year on year, before transitioning to a limited company which now employs over 60 qualified staff at various different levels within the firm.
Based in Sheffield, the company also offers services to surrounding areas such as Derbyshire, Nottinghamshire and South Yorkshire.
"From day one our aim has been to give businesses the unobtrusive and top quality service that they expect. We've grown a lot in 8 years and now we are able to offer a huge range of services," commented Hayley.
"We have learned to really understand that businesses need to be as efficient and productive as possible and that a clean and hygienic environment is a really important part of this. We strive to not only help clients meet their health and safety regulations, but to provide a clean and safe environment for staff, leaving them to concentrate on more important things within their business."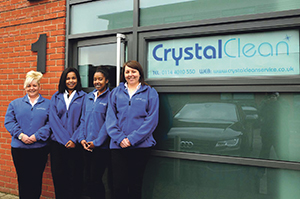 Crystal Clean Service Ltd takes the hassle out of cleaning and can provide a daily cleaning service to a schedule that suits every individual client. As well as daily commercial cleaning, Crystal Clean also provides a wide range of additional services. These include washroom services, carpet, window and mat cleaning as well as safety floor cleaning, suspended ceiling cleaning and drain and gutter cleaning. Instead of managing several companies for all different services, Crystal Clean provides everything its customers need.
A free consultation and general assessment is always carried out and a suitable plan is then agreed and put in place.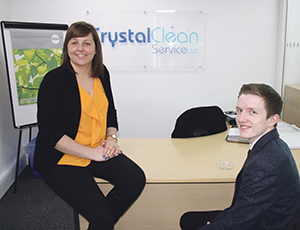 "We understand people's hesitation to change their commercial cleaning company in case their concerns are ignored," explained Hayley. "But they can rest assured that Crystal Clean employees are trained professionals in the cleaning and hygiene industry. We understand that as a business no-one wants the hassle of dealing with all these issues on a daily basis and that businesses need a reliable, professional, friendly and compliant service provider, and that's exactly what we are!
"At Crystal Clean our staff are extremely important to us. We believe well looked after staff will better look after our clients. We ensure all our employees are working in a safe environment and are given the best training and development available."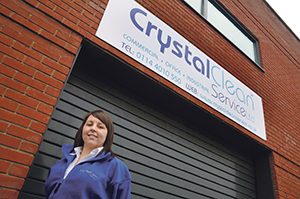 "Our plan is to continue what we are doing – just bigger and better!" Hayley concluded. "We aim to continue to grow and to double the business in the next three years through a combination of continuous improvement of our services and always providing a superior level of customer satisfaction."
For more information on how Crystal Clean Services can help you, contact them using one of the sources below:
T 0114 4010 550
info@crystalcleanservice.co.uk
www.crystalcleanservice.co.uk