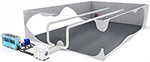 – Bill Carrick, Product Director, Aggreko
The coronavirus pandemic has fundamentally changed everything that used to be "normal". To adapt to the pandemic, businesses around the world quickly needed solutions to create safe work environments for employees and customers. In many cases, this has led to the fast-tracked implementation of new technologies, innovative approaches and new ways of working.
At Aggreko we had to adapt and help our customers to do the same. As the world's leading supplier of mobile and modular power and temperature control solutions we saw unprecedented levels of interest in new approaches and new technologies. We think some of those trends are good indicators as to what might well become the new normal.
Remote monitoring technology keeping businesses running 
Within the space of a few short months companies across the world had to come up with ways of radically reducing the numbers of their own people and contractors that were on site or in offices at any one time.  Travel restrictions, safe distancing requirements and new shift patterns all accelerated Aggreko's digital transition that was already underway across our business.
For instance, during the height of the lockdown we brought a hybrid battery-thermal solution online at a steel mill in the United Arab Emirates. While the local team was working on the installation, our subject matter experts, half a world away in Austin and Berlin, were remotely monitoring the charging of the batteries and the cell performance.
We've also seen an uptick in the need for more advanced digital technology where external contractors may be carrying out services that traditionally require them to be on site. In the energy services sector, engineers are usually required to attend customers' sites in-person when maintaining generators and other energy assets. This creates the risk of disrupting business operations as allowances must be made to ensure social distancing between contractors and onsite employees. Much of this disruption has been avoided by employing remote monitoring.
In addition, we recently launched the world's first remote monitoring system for industrial dryers, which allows our engineers to track a customer's dew point and running status without needing to be present, meaning that our customers can ensure that their dryer and associated air compression systems are running effectively in a safe and efficient way.
Integrating digital solutions is nothing new of course. At Aggreko we've had the capability to monitor our equipment from afar since 2013. Our remote monitoring centres in Texas and Louisiana are filled with engineers ensuring that our equipment worldwide is operating efficiently and safely. Both centres remained fully operational despite periods of lockdown during the ongoing pandemic. What we've seen in the past few months is that digital innovation is now a necessity for many customers.
Not only does it reduce costs and disruption. Importantly it keeps staff safe in the current pandemic context, by reducing the number of in-person maintenance visits required.
Digital solutions are revolutionising the way companies like ours can manage existing fleets too. For example, they allow us to gather real-time data from across the world on one platform to garner insights about how our equipment is operating, and this allows us to improve our equipment set-up and servicing to ensure maximum efficiency.
Predictive monitoring gives us advanced warning when a problem may be about to arise by utilising the data that is delivered from our 'Internet of Things' technologies. We apply machine learning algorithms to evaluate gigabytes' worth of this data in real time from our systems across the world. This allows us to identify anomalous behaviour and take preventative action before a potentially catastrophic failure occurs. All this helps improve the safety of our assets and deliver maximum efficiency, while reducing the need for frequent on-site visits by our engineers.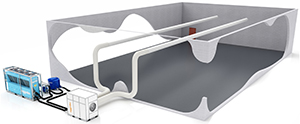 Like many companies, we've also been using the pandemic as a time to rethink and reprioritise which has led to the enhancement of our training and development function.
Through the use of Augmented Reality (AR) we have enabled our engineers to continue learning about key equipment and doing so in reality type setting – albeit a digital reality – rather than just through theory.
This includes creating a fully digital model of our 1600 T4F compressor, which we're able to roll out to teams all over the world, allowing them to train at any time – not just when they have access to a physical unit, Rethinking and repriortising these training intiatives is key to businesses of all sectors continuing an element of normality in a socially distanced world.
Enabling cleaner spaces
While providing reliable power is essential for any business operation, clean air for employees is now just as important. Research shows that, even allowing for social distancing, offices can still become vectors for further infection if air circulation is not sufficient. The World Health Organisation believes that coronavirus is primarily spread through droplets of saliva, which are expelled when people cough or sneeze. Several research papers have found that the risk of transmission is particularly high in indoor settings where people are together for long periods of time.
There is also increasing evidence to suggest that, without proper ventilation, office settings and other workplaces could become hotspots for transmission. However, most commercial ventilators are not designed to replace the air in a workplace setting entirely.
In order to ensure that air flow is operating effectively through workplaces, businesses have needed to look at new technologies. Aggreko's clean air solutions allow for efficient air circulation to provide fresh air in internal spaces, keeping customers and employees safe and allowing companies to conduct 'business as usual' without compromising on safety. They've proved to be a vital lifeline in keeping business operations functioning safely.
Opportunities in a changed world
The pandemic has forced us to reassess how we do things across all facets of life. As businesses begin to operate in a 'new normal', we are all looking for better ways to keep everyone on site safe while minimising costs.
Innovative solutions can and have helped address the immediate challenges with keeping teams safe. But these solutions unlock greater benefits and have longer term advantages, resulting in better processes and lower costs for businesses who rely on energy and industrial services and helping support the return to work.
The impact of the pandemic has been devastating. That's a given. However, there may too be a silver living, in that the crisis has served as a catalyst to accelerate the deployment of innovation and is driving smarter, more efficient and more environmentally-sustainable ways of working.